The Alibaba IPO date is just weeks away, but there are still many questions to be answered before Alibaba stock begins trading on the New York Stock Exchange.
When is the exact Alibaba IPO date? How much money does Alibaba make? What will the Alibaba stock price be?
These are just a few of the questions that investors have as Alibaba Group Holding Ltd. (NYSE: BABA) prepares for one of the largest IPOs in history.
Fortunately, we now have answers to the seven biggest questions concerning Alibaba stock ahead of the company's highly anticipated IPO...
7 Questions About Alibaba Stock Answered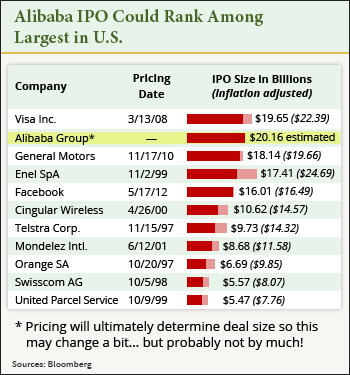 Alibaba Stock Question No. 1: When will Alibaba stock start trading?
A: Multiple reports indicate that BABA stock will start trading Sept. 16, and will begin its "roadshow" on Sept. 3. According to Bloomberg, Alibaba and its underwriters will make 100 presentations during the roadshow, with stops in Hong Kong, Singapore, London, New York, Boston, Los Angeles, and San Francisco.
These presentations are the primary way for the company to sell Alibaba stock. While Sept. 16 is the most likely Alibaba IPO date, a delay is entirely possible. Founder Jack Ma and the rest of the Alibaba brain trust do not want to rush an initial public offering of this size.
Alibaba Stock Question No. 2: What will the Alibaba stock price be?
A: The Alibaba stock price on its first trading day will be determined in part by where the company prices the IPO. A specific price range has not been set for Alibaba shares yet, but investors will find that out in the days leading to the IPO. The company will announce the final price for Alibaba stock the day before the offering.
Once Alibaba stock hits the market, huge investor demand could send the stock soaring. When Twitter Inc. (NYSE: TWTR) debuted in November, investors flooded into the stock driving it up 73% in its first day and 188% in the first month. TWTR's trade volume was more than 117 million on the first day, contributing to that spike.
Similar demand for Alibaba stock on its first day would result in shares soaring as well. Even better is that Alibaba boasts much more profit potential than Twitter, supporting its stock price for the long term.
Alibaba Stock Question No. 3: Where will Alibaba stock trade?
A: BABA stock will be trading on the New York Stock Exchange, after the company deliberated between the NYSE and the Nasdaq. Alibaba should be the third-largest tech company on the NYSE behind International Business Machines Corp. (NYSE: IBM) and Oracle Corp. (NYSE: ORCL).
By picking the NYSE, BABA dealt a major blow to the Nasdaq, which has historically attracted tech companies. That trend seems to be fading however, as 22 of the 37 tech and Internet companies that held U.S. IPOs in 2013 chose the NYSE.
Money Morning members, continue reading for the answers to the most important questions about Alibaba stock...