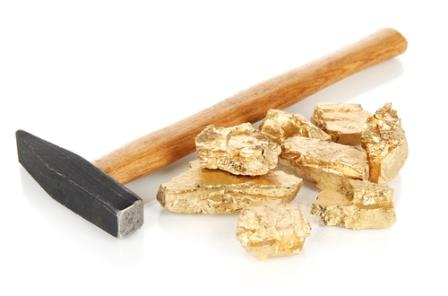 Illegal gold mining is stealing so much money from countries and companies that the United Nations is finally stepping in.
The worldwide surge in gold prices - 360% over the last decade, and 34% from 2008 to 2009 following the Great Recession - sprung a very profitable niche for illegal gold miners. The practice bites into national revenue and the profits of legal gold miners. It also causes severe environmental effects and social conflict.
"Countries are losing significant funds," United Nations Interregional Crime and Justice Research Institute (UNICRI) director Jonathan Lucas said to The Wall Street Journal this week.
The UN will start a study in September to examine the role of illegal gold mining and black market trading in the production and distribution of gold. It will gather information from affected countries through December 2014 or January 2015, and then release a report that provides recommendations for the countries - and the gold mining companies therein - to combat the issue.
Here's what we already know about the devastating impact illegal gold mining has had around the globe...
Illegal Gold Mining Hits South Africa the Hardest
Compared to other countries, South Africa is particularly vulnerable to the illegal mining practice.
South Africa, formerly the world's biggest gold producer until 2008, has a large number of abandoned, deeply running mines, making police enforcement near impossible. According to the South African Council for Geoscience, about 4,400 of some 6,000 abandoned mines in the country are being illegally mined. And the number of illegal miners is rising.
"We are very close to the point where there will be more illegal miners than legal miners," South African mining consultant Anthony Turton said to Mining-Technology.com.
The country is estimated to lose approximately 5% of its annual mineral output due to illegal gold mining annually, according to the country's Chamber of Mines. That amounted to a whopping $500 million in taxes and export revenue in 2010 (the most recent data available). The country makes $2 billion in corporate taxes a year from legal miners.
Perú's Recent Initiative to Combat Illegal Gold Mining
In Perú - currently the world's fifth-largest gold producer with extractions of about $10 billion annually - a region called Madre de Dios is inhabited by an estimated 40,000 illegal gold miners that account for about 20% of Peru's gold exports per year.
According to a joint study by the Carnegie Institution of Science and Peru's Ministry of the Environment, the number of illegal gold mines in Peru increased by 400% between 1999 and 2012. Deforestation rates have tripled following the Great Recession in 2008, when gold prices began to skyrocket.