The price of oil has climbed slightly this week with West Texas Intermediate (WTI) hitting an intra-week high of $95.17 for October delivery today (Friday).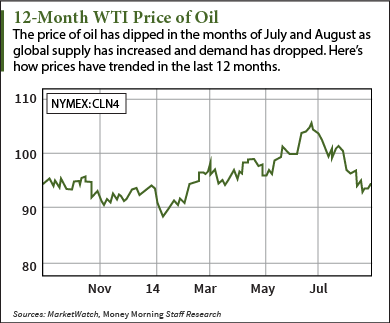 Despite this week's price hike, WTI prices are still well below the three-year high of $105 a barrel they hit in June. Brent prices are also down in the last two months, near $103 per barrel today. They had climbed as high as $115 in June.
A supply glut has kept the price of oil down throughout July and August, and according to Reuters, analysts expect supply to exceed demand for the rest of 2014. 
"There is crude everywhere," Mitsubishi Corp.'s risk manager Tony Nunan told Reuters. "There's just too much supply and we've had terrible demand."
One of the biggest factors driving supply is increased oil production in the United States. According to the Energy Information Administration (EIA), U.S. output grew by more than 4 million barrels per day (bpd) from January 2011 to July 2014.
At the same time, demand has not increased as much as experts had anticipated. Analysts are expecting the ongoing trade dispute with Russia to lower the amount of oil consumed globally, thus keeping demand at muted levels.
Those factors have dropped WTI oil prices roughly $10 in the last two months, but the crisis in Iraq has also played a large role.
The June spike in WTI to $105.55 per barrel coincided with the beginning of the crisis in Iraq. At the time, analysts worried Sunni militants from the terrorist group ISIS would gain control over many of Iraq's oil fields and refineries, which sent oil prices soaring.
Prices dropped in the month of July, however, when it became apparent that ISIS was not targeting southern Iraq oil fields, where the country's oil exports are produced.
Any type of geopolitical unrest is typically a catalyst for oil prices and this summer's spike coincided with three - the situation in Gaza, Ukraine, and Iraq. But now, analysts are unfazed by these crises...
"Traders obviously do not think the crises in Ukraine, Iraq, or Gaza will have a major impact on the global market (at least not yet)," Money Morning's Global Energy Strategist Dr. Kent Moors said. "As a result, they are discounting the impact of the tensions on overall availability."
The price of oil may be trading much lower than it was earlier this summer, but in the words of Moors "we're not out of the woods yet."
In fact, even a small disturbance could send oil prices much higher in a hurry - Moors explains...
What Could Send the Price of Oil Soaring in 2014