During the height of the Deepwater Horizon tragedy four years ago, I had my graduate students monitor the flow of oil from the sunken platform in the Gulf of Mexico.
Most of their work involved rather straightforward calculations based on undersea camera footage.
But from time to time, flimsy protoplasmic-like structures would float across the screen. The students called them "ghosts."
One student even casually wondered, "What if the ghosts had caused all of this?"
With that, I walked over, checked some figures, and immediately called the U.S. Coast Guard contingent that was overseeing the data from the disaster.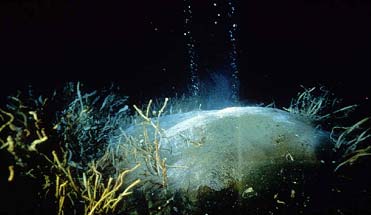 Fast forward to today, and there have been some equally disquieting discoveries in the news of late.
So what do mysterious holes in the Siberian permafrost, hundreds of gas plumes off the East Coast, and our "ghosts" apparently have in common?
It seems to be icy methane hydrates, touted by some as the fuel of the future…
Solving the Siberian Crater Mystery
According to an April study issued in the Proceedings of the National Academy of Sciences, permafrost soil, which typically remains frozen all year, is thawing and decomposing at an accelerating rate.
This process is releasing more methane into the atmosphere, causing the greenhouse effect to increase global temperatures, potentially creating a positive feedback situation in which even more permafrost begins to melt.
"The world is getting warmer, and the additional release of gas would only add to our problems," said Jeff Chanton of Florida State University, a member of the study group. He added that, if the permafrost completely melts, there would be five times the current amount of carbon equivalent in the atmosphere.
Unfortunately, that corresponds with what Russian scientists found when they analyzed the giant mystery craters that were recently discovered in the Siberian Yamal Peninsula.
Andrei Plekhanov of the Russian Scientific Center of Arctic Studies, who led an expedition to the first crater, told the journal Nature in late July that his team found concentrations of methane approaching 9.6% at the crater's floor.
That's more than 53,600 times higher than the average of amount of methane usually found in the atmosphere (measuring 0.000179%).
Now, scientists are worried that warming temperatures are going to create the conditions for more permafrost melting, releasing additional methane in those areas (like Yamal) where there are major natural gas deposits.
Then there is the other major problem that was recently disclosed.
Join the conversation. Click here to jump to comments…
About the Author
Dr. Kent Moors is an internationally recognized expert in oil and natural gas policy, risk assessment, and emerging market economic development. He serves as an advisor to many U.S. governors and foreign governments. Kent details his latest global travels in his free Oil & Energy Investor e-letter. He makes specific investment recommendations in his newsletter, the Energy Advantage. For more active investors, he issues shorter-term trades in his Energy Inner Circle.