(This story was updated April 29, 2015)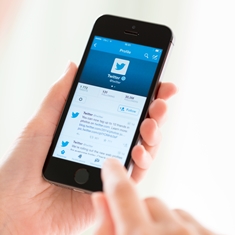 In 2007, Twitter Inc. (NYSE: TWTR) hosted 20,000 tweets per day. By 2010 that figure jumped to 50 million.
Now in 2015 it has more than 302 million monthly active users sending more than 500 million tweets per day.
But those numbers don't mean anything to investors if they can't answer this more important question first: How does Twitter make money?
The short answer: Most of Twitter's revenue comes from advertising - a revenue stream that's benefitted from Twitter's explosive growth.
Here's a closer look for investors at how Twitter operates.
How Twitter Makes Money
Twitter, founded in 2006 in San Francisco, allows users to send 140-character text messages (tweets) to their list of followers. The service is available in 35 languages.
The microblogging service sees massive spikes in tweets during global events or major breaking news stories. During the FIFA World Cup in 2014, more than 652 million tweets were sent. More than 28.4 million tweets mentioning Super Bowl XLIX were sent on Feb.1.
TWTR's last earnings report released April 28, 2015 showed its user base totaled 302 million people at the end of Q1.
That user growth figure is crucial for investors because advertising accounts for 89% of Twitter's revenue. In Q1 2015, Twitter reported its advertising business brought in $388 million in revenue. That was a 74% increase from the previous year.
Roughly 89% of that advertising revenue comes from mobile.
Twitter offers three major advertising methods for reaching its growing user base.
The most popular method is promoted tweets. These allow marketers to buy tweets that show up in users' timelines like any ordinary tweet.
Twitter uses an algorithm that puts these promoted tweets on the timelines of the most appropriate users. For example, if Twitter knows someone is a sports fan, they will place a promoted tweet from a sports apparel retailer on that user's timeline.
Promoted accounts are another way Twitter makes money. This places paid accounts in users' "Who to Follow" section or on users' timelines. Essentially, advertisers pay Twitter to promote them as a desirable account to follow.
Finally, the third advertising method Twitter uses is "Promoted Trends." Here's how those work...