Best stocks to buy for the week ending Aug. 29, 2014: Last week for Money Morning Members, we highlighted seven stocks that bring readers the "best of the best" in four sectors currently overflowing with upside potential.
One pick hails from the 3D printing market that's expected to quadruple within the next four years. Another is in the fleet and fuel management sector – it's rapidly growing at a compound annual growth rate of 22.8%. We've got three energy stocks to buy from the most productive natural gas region in the United States. And we highlighted two silver ETFs that play some promising numbers that were just reported from August.
You can find all of last week's tips and recommendations here in our newest list of the best stocks to buy now.  
Money Morning's Latest "Best Stocks to Buy" List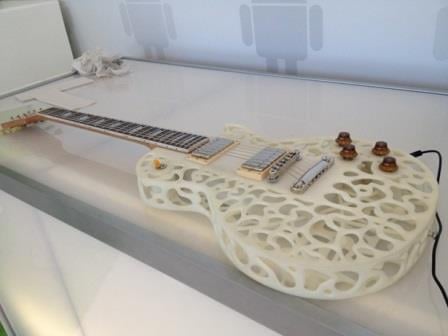 A 3D-printed guitar. Source: on3dprinting.com
Robinson also recommended to readers a pick in another sector with massive upside potential for investors. The fleet and fuel management market is expected to grow from $10.91 billion in 2013 to $30.45 billion by 2018, according to a report from market research firm MarketsandMarkets. That's a whopping compound annual growth rate (CAGR) of 22.8%. Robinson first recommended this stock back in May 2013, and since then, it has skyrocketed almost 90% – and it's not even close to finished. On Aug. 12, the company made a "very strategic acquisition" that's going to place it in several new and growing business lines. "[This company] will continue filling their portfolio's tank – and yours, too – for years to come," Robinson said…