At its special event today (Tuesday), Apple Inc. (Nasdaq: AAPL) proved it still has plenty of innovative fire in its belly.
But Wall Street apparently wanted more, as the Apple stock price slipped into negative territory after the event ended, after rising as high as $103.08 while the iPhone 6, Apple Pay, and the Apple Watch were being unveiled.
AAPL closed Tuesday at $97.99, down 0.38%.
The AAPL stock price will probably meander in the short term as investors try to get a grasp on what today's Apple news really means for future profits.
One problem for the Apple stock price is that most of this news was at least partially leaked before the event. What's more, the impact of some of today's announcements won't hit the bottom line until next year, which was reason enough for Wall Street to pout.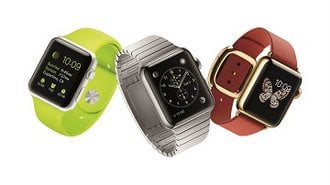 Investors may also have doubts about the Apple Pay system, but the company's emphasis on privacy and security at least shows it gets what matters when it comes to payments. 
What matters is what each of these products will do for Apple stock down the line, and from what we saw today, each is likely to add significantly to the company's earnings.
Here's a closer look at the products that the Cupertino, Calif. company announced today, and what they could do for AAPL.
The iPhone 6's Impact on the Apple Stock Price
Few were surprised by the iPhone 6 announcements – Apple Senior Vice President of Worldwide Marketing Phil Schiller even joked about people already knowing the two larger sizes of the iPhone displays, 4.7 inches and 5.5 inches.
The iPhone 6 is the smaller product, while the 5.5-inch version gets the moniker iPhone 6 Plus.
In fact, despite lots of other improvements – including a faster processor, a fancier camera, a barometer for fitness apps, and so forth – it's the larger display that matters most. Bigger screens was the primary feature attracting customers to Android-based smartphones such as Samsung's Galaxy series.
This is the one product announced today that will hit the bottom line quickly. The two iPhone 6 models will go on sale starting Sept. 19 and so will be available for the entire December quarter, traditionally Apple's most lucrative.
And Apple itself is expecting monster sales of the iPhone 6, as previous reports indicated that they had ordered factories to produce 70 million to 80 million units ahead of the launch – substantially more than the 50 million to 60 million iPhone 5s and iPhone 5c models the company ordered last year.
Since the iPhone accounts for more than half of Apple's profits, such a bump in sales will serve as a catalyst for the AAPL stock price into the fall and winter.
The other two major announcements figure to have most of their impact sometime next year…