Crude oil prices have had a volatile summer, with West Texas Intermediate (WTI) hitting a three-year high of $105.55 a barrel in June before settling back down near $92 this week.
Even with oil's volatility, investors can have a better idea of where the price of oil is headed if they know what causes oil prices to rise.
Fortunately, Money Morning's Global Energy Strategist Dr. Kent Moors is uniquely qualified to help. As a 35-year expert in oil and gas policy, Moors has served as an advisor to governments, private companies, financial institutions, and law firms around the world.
According to Moors, there are numerous factors in play when it comes to determining crude oil prices - but one of the most common factors is a crisis in an oil-producing country.
"Whenever a conflict occurs in an oil-producing country, oil prices rise," said Moors. "It's one of the most predictable patterns in the markets."
That's precisely what happened this summer when crude oil prices reached three-year highs...
Sign up for SMS so you never miss special events, exclusive offers, and weekly bonus trades.
In June, ISIS militants overtook much of northern Iraq including the country's second-largest city, Mosul, the city of Fallujah, and one of the country's largest oil-producing provinces, Kirkuk. The fighting also bled across the Syrian border.
The insurgency affected major oil fields and refineries in northern Iraq, where much of the country's proven oil reserves are located. Iraq accounts for 4% of the world's oil supply, and any disruption of that production would have had major ramifications, according to Moors.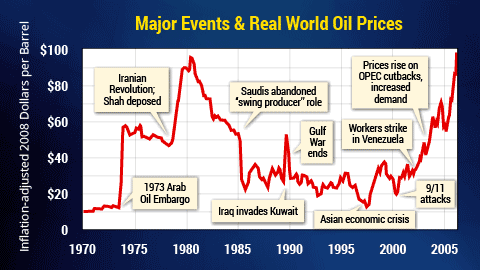 The uncertainty in Iraq sent WTI prices over $105 a barrel. Fortunately, it became apparent that the ISIS insurgents would not be targeting the southern Iraq oil fields where the country's oil exports are produced, and oil settled to its current price.
The Iraq crisis was just the latest example of a geopolitical situation creating a spike in oil prices.
The accompanying chart shows exactly how prices have surged following major geopolitical events from the past four decades. As Moors pointed out, the price spikes are predictable.
But investors have to look at how oil traders react to these situations to get an idea of how oil prices are really driven. They'll notice when looking up oil prices, that the price listed is for delivery in the next month. That plays a huge role in determining pricing.
"In a crisis situation, oil traders set their prices based on the next most expensive barrel of oil in the future," Moors continued." This is the real cause of high oil prices. Not large oil producers. Not gas stations. But the futures markets."
So while crises may spur oil price hikes, it's the futures market that's really driving prices...
How Traders Really Drive Crude Oil Prices