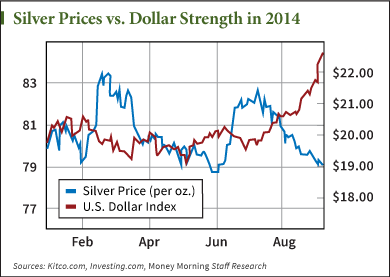 Silver prices today are trading at their lowest levels on the year, continuing a two-month bear cycle during which the white metal has fallen $2.91 an ounce, or as much as 13.5%.
Earlier this morning (Thursday), silver prices had fallen as low as $18.54 an ounce, below the June 2 closing low of $18.76. With the dollar topping out at 14-month highs and the U.S. Federal Reserve indicating that interest rates could spike sooner rather than later, many silver investors are heading for the exit.
The bid price for 24-hour spot silver is down 3.2% on the year, 2.7% on the month, and 1.3% on the week as of yesterday's (Wednesday) close. It is also down 11.7% since it hit a three-month bull rally peak exactly two months ago, topping out at $21.445 an ounce.
Silver futures – contracts promising the future delivery of physical silver – are trading down 3% on the year at $18.92 as of market close yesterday.
And silver investments are struggling as well. The largest silver exchange-traded fund, iShares Silver Trust (NYSE Arca: SLV), which is backed by physical silver bullion in London and New York vaults, was dangerously flirting with 52-week lows this morning, trading just $0.01 off at $17.92 at one point this morning. A popular alternative to SLV, the ETFS Physical Silver (NYSE Arca: SIVR) was just $0.02 off its 52-week low when it was trading at $18.41 this morning.
Silver's travails have been particularly disappointing given that July and August both produced losses in months that are generally kind to the white metal. In the last decade, silver had averaged a 4.2% return and only once had posted a loss. This year, for the first time since 2010, silver slid, with prices dropping 2.8%.
Similarly, silver was up five years in a row and seven of the last 10 years in August, averaging a return of 3.6%. In 2012 it posted a 13.4% gain, and in 2013 an impressive 19.3% return. However, this year it posted its second-worst month on the year as it lost 4.5%.
So what's working against silver? And when will it hit the bottom and reverse this disappointing two-month downdraft?