If you had bought Biogen Idec Inc. (Nasdaq: BIIB) during the depths of this spring's biotech sell-off, you could have been sitting on peak gains of 28.3%.
If you'd picked up Celgene Corp. (Nasdaq: CELG) at the time, you'd be doing even better, with peak gains of 40.9%.
And if you had been really brave, you could have picked up shares of the company that – through a series of Washington political shenanigans – was the "cause" of the sell-off. And you'd be doing very well, indeed.
Since April 11, Gilead Sciences Inc. (Nasdaq: GILD) has scored peak gains of a whopping 74.2% – or more than 175% annualized gains.
Some investors don't want to risk it all during a sell-off by picking and choosing among stocks getting slammed – but they still do want to take advantage of the growth hot biotech stocks offer.
I understand.
So today I want to tell you about a conservative approach to investing.
However, though this investment is conservative, it still offers big money through biotech.
In fact, it's yielded annualized gains of more than 60% so far this year – and there's plenty of upside left to come…
Biotech Stocks to Buy: The Best Pick for Risk-Tolerant Investors
Investors who picked up shares of Gilead before they fully recovered have made 38.7% gains since I recommended GILD on June 19.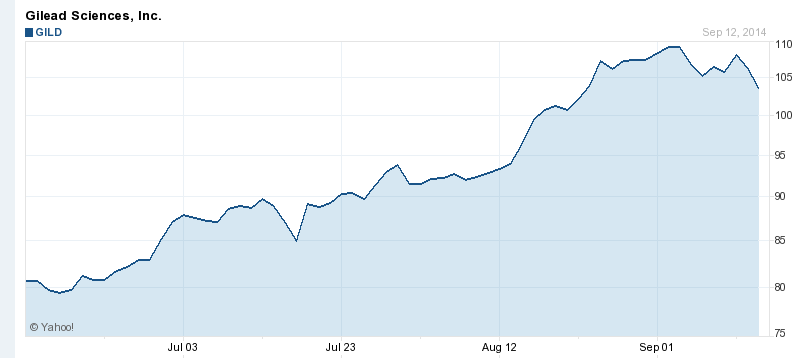 Not bad for a company that Washington politicians said was emblematic of everything wrong with drug companies just a few months ago.
Gilead, a Foster City, Calif.-based biotech that's been around since 1987, received approval in December for Sovaldi, its new hepatitis C treatment.
Sovaldi, I'm telling you now, will go down as one of the most successful drugs ever released.
Ordinarily, the release of an extremely promising drug would be enough to ignite a stock to new levels. And that was in the works until Washington politics and a classic Wall Street overreaction derailed Gilead's success.
Back in March, several influential U.S. House members criticized Sovaldi's $84,000 sticker price. And Gilead sold off, dropping from around $80 to less than $64 in less than a month.
And much of the biotech sector soon followed. The Nasdaq Biotechnology Index sank 22% in about six weeks, hurting everything from tiny startups to huge mutual funds.
At the time, I steadfastly believed that Gilead and the rest of the sector would quickly recover. In other words, biotech was brimming with new buying opportunities.
But again, you have to be a bit of a risk taker to pick stocks during such a tumultuous time.
With regard to Gilead, Wall Street feared that, as part of the 2014 midterm elections, Congress might put price restrictions on Sovaldi or otherwise go after the biotech sector.
But I quickly determined there was no way Congress would take action against Gilead or any other pharmaceutical firm based on the price of a new drug.
Here's why…
Join the conversation. Click here to jump to comments…
About the Author
Michael A. Robinson is one of the top financial analysts working today. His book "Overdrawn: The Bailout of American Savings" was a prescient look at the anatomy of the nation's S&L crisis, long before the word "bailout" became part of our daily lexicon. He's a Pulitzer Prize-nominated writer and reporter, lauded by the Columbia Journalism Review for his aggressive style. His 30-year track record as a leading tech analyst has garnered him rave reviews, too. Today he is the editor of the monthly tech investing newsletter Nova-X Report as well as Radical Technology Profits, where he covers truly radical technologies – ones that have the power to sweep across the globe and change the very fabric of our lives – and profit opportunities they give rise to. He also explores "what's next" in the tech investing world at Strategic Tech Investor.