Of all the renewable energy sources, geothermal power remains by far the smallest.
But that may not prevent it from becoming the next energy "hot potato."
A good example of its potential can be found in Iceland, where the entire country runs on geothermal power. Of course, it does help to have a string of active volcanoes to tap.
As for the United States, believe it or not, we are currently the world's leader with about 3.4 gigawatts of geothermal generating capacity already in operation.
Still, that only accounts for about 0.4% of all the electricity currently produced nationwide.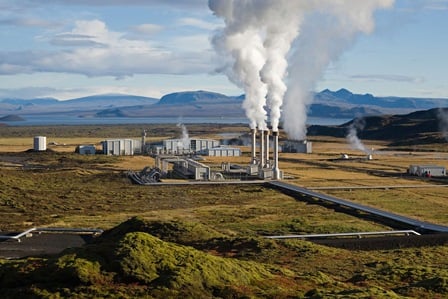 Naturally, it would seem that tapping the geothermic pressure produced beneath the earth's surface would be a positive addition to the energy landscape.
After all, Mother Nature seems to be handing us a gift by providing a readily available power source.
But there are two problems quickly developing in this part of the energy spectrum.
And they are shaping up to create the newest controversy in the energy sector...
The Brewing Battle over This Renewable Energy Source
First, there is the prospect of utilities being legislatively forced to buy a percentage of their power from geothermal generating companies in California. While the state legislature has adjourned its latest session without taking any action, the issue has once again brought charges that a designated renewable has been given an unfair advantage.
Similar approaches have been used in the past for both solar and wind power in various (usually western) states. That brought on claims of higher utility bills as consumers were forced to subsidize the higher costs of infrastructure and network development.
Opposition to the proposed geothermal bill was strong from both traditional utilities and renewable energy companies. Utilities felt that requiring the purchase put a burden on its customers, while renewable energy companies felt that it created an unequal playing field for renewables, since it set aside a large portion of the market only for geothermal.
Here's just how big of an impact on consumers' wallets we're talking about.
Join the conversation. Click here to jump to comments…
About the Author
Dr. Kent Moors is an internationally recognized expert in oil and natural gas policy, risk assessment, and emerging market economic development. He serves as an advisor to many U.S. governors and foreign governments. Kent details his latest global travels in his free Oil & Energy Investor e-letter. He makes specific investment recommendations in his newsletter, the Energy Advantage. For more active investors, he issues shorter-term trades in his Energy Inner Circle.