The Alibaba IPO is just hours away and Money Morning has all the Alibaba Group Holding Ltd. (NYSE: BABA) stock information investors need to know as BABA stock hits the market on Friday, Sept. 19.
All the Alibaba (NYSE: BABA) Stock Information to Know Now
What Is the Alibaba Stock Price Range?: Alibaba has set a price range of $66 to $68 for its stock price. Previously, the company had set a range of $60 to $66. At the high end of the new range, Alibaba will raise roughly $21.8 billion through the IPO.
While pricing at the high end of the range will make Alibaba $21.8 billion, the company could still see that total go higher.
Company officials said that depending on how many shares the deal's underwriters buy following the IPO, the IPO total could be much higher. In fact, it could go as high as $25 billion.
Where Will Alibaba Stock Trade?: In late June, Alibaba officials announced that its shares will trade on the New York Stock Exchange under the ticker "BABA." Both the Nasdaq and the NYSE had competed for the mega-IPO, but eventually the NYSE won out.
How Much Is Alibaba Worth?: When Alibaba announced its initial stock price range, the company said it would reach a valuation of $155 billion at the midpoint of that range. Now that Alibaba has lifted the range, it will likely be valued much higher. A survey of Bloomberg analysts concluded that Alibaba could be worth roughly $200 billion following the IPO.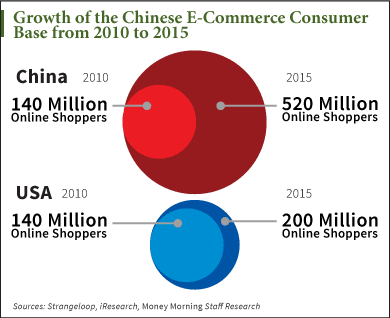 How Big Is China E-Commerce?: Last year, online shopping in China was a $298 billion business. That easily surpassed the United States' $263 billion, making China the largest e-commerce market in the world.

"Alibaba is the dominant e-commerce player in a marketplace - China - that's seeing incredible growth in online commerce," Money Morning's Executive Editor Bill Patalon said. "According to the research I've seen, e-commerce in China is projected to hit $540 billion by 2015, and that's just for starters. By 2020, China's e-commerce market will be worth more than the United States, the United Kingdom, Japan, Germany, and France combined. So we know that growth is coming... and we know that Alibaba is the No. 1 gun."

By 2015, the number of Chinese e-commerce users is expected to hit 520 million - that's more than double the number expected in the United States.
Is Alibaba Growing?: A key to Alibaba's growth is mobile. In 2013, Alibaba reported that its mobile sales soared 100% to 351 million units. That accounted for one-third of all global sales.

But that's just the start. According to the research firm IDC, smartphone shipments in China will top 450 million units this year.
Money Morning Members: Continue reading for more "must-know" BABA stock information, plus a way to start profiting from this historic IPO now...