Jack Ma is the founder of Alibaba Group Holding Ltd. (NYSE: BABA) and the man that has turned Alibaba into the largest e-commerce company in the world's largest e-commerce money.
And now he's the man behind that Alibaba IPO - a deal that could end up being the largest initial public offering in history.
Here's what investors need to know about Jack Ma as Alibaba stock makes its debut on the New York Stock Exchange...
Meet Jack Ma, The Man Behind The World's Largest IPO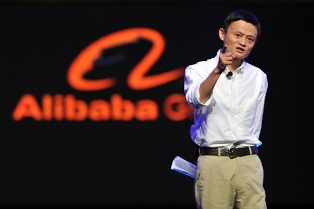 Who Is Jack Ma?: Alibaba's former founder and current Chairman Jack Ma had an inauspicious start. Formerly a teacher, Ma had no computing or e-commerce experience. But that didn't stop him from creating China's largest e-commerce company.
"Innovation in many industries has been triggered by outsiders," Ma wrote in a June 2013 article in the Communist party's official newspaper the People's Daily. "The finance industry needs a disrupter, it needs an outsider to come in and carry out a transformation."
And inexperience hasn't stopped Ma from bringing Alibaba into various markets. Ma and Alibaba have purchased logistics, retail, commerce, and media companies in the last year. He also purchased a professional soccer team in early June.
What Is Jack Ma's Net Worth?: According to Bloomberg's Billionaire Index, Ma's net worth has been calculated at $21.9 billion, making him China's wealthiest citizen - by a wide margin.
The next closest person on the list is Baidu Inc.'s (Nasdaq: BIDU) founder Robin Li, who has a net worth of $16.6 billion. The founder of Tencent Holdings Ltd., Ma Huateng, is third on the list with a net worth of $16.4 billion.
How Much Will Jack Ma Profit From the Alibaba IPO?: Jack Ma controls a 7.3% economic stake in Alibaba, which is valued at roughly $11.2 billion.
Jack Ma stepped down from his role as the CEO of Alibaba in 2013 so he could focus on philanthropy, saying he's "no longer young for the Internet business," but he still shapes the company's strategy and maintains the title of executive chairman. He also owns an 8.9% stake in Alibaba and will remain the face of the company as it continues to grow...
"I thought it would be easier when I stepped down from CEO," Ma told The Wall Street Journal, "But now I'm finding out being a chairman, if you want to be a good chairman, is much busier than being a CEO."
Editor's Note: Many investors are hoping to cash in on the Alibaba IPO by making the "obvious" move. But there's another way. I'm talking about a unique "backdoor" company that most people have never heard of before. Our research shows you can reap huge profits on this play right now - before BABA stock starts trading. Go here to learn more.