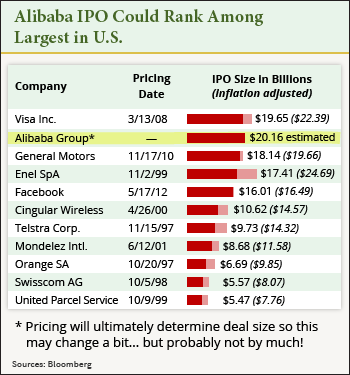 Here are the three most important Alibaba (NYSE: BABA) charts all investors need to see before Alibaba stock hits the market tomorrow (Friday).
How Big Is the Alibaba IPO?: Currently, the largest IPO on record is the $22 billion deal the Agricultural Bank of China Ltd. held in 2010. Visa Inc. (NYSE: V) holds the record for largest ever U.S. IPO, having raised $19.65 billion in 2008.
If Alibaba prices at the high end of its $66 to $68 price range, the Alibaba IPO will raise roughly $21.8 billion.
However, company officials said that depending on how many shares the deal's underwriters buy following the IPO, the total could be much higher. In fact, it could go as high as $25 billion.
Earlier in the IPO process, analysts expected Alibaba to raise closer to $20 billion. Even that conservative estimate places Alibaba atop the list of U.S. IPOs...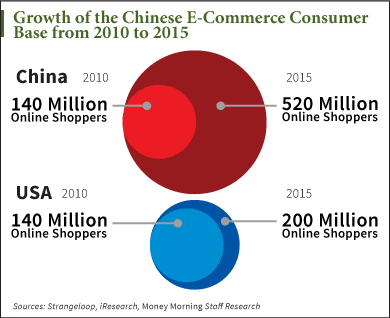 How Big Is China E-Commerce?: Last year, online shopping in China was a $298 billion business. That easily surpassed the United States' $263 billion, making China the largest e-commerce market in the world.
"Alibaba is the dominant e-commerce player in a marketplace - China - that's seeing incredible growth in online commerce," Money Morning's Executive Editor Bill Patalon said. "According to the research I've seen, e-commerce in China is projected to hit $540 billion by 2015, and that's just for starters. By 2020, China's e-commerce market will be worth more than the United States, the United Kingdom, Japan, Germany, and France combined. So we know that growth is coming... and we know that Alibaba is the No. 1 gun."
By 2015, the number of Chinese e-commerce users is expected to hit 520 million - that's more than double the number expected in the United States.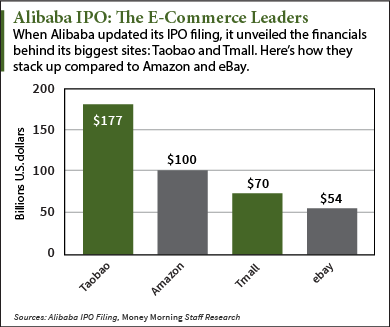 Alibaba Is Bigger Than Amazon and eBay, Combined: When Alibaba updated its prospectus in June, it gave specifics on the volume of its websites. In 2013, its most popular site, Taobao, handled $177 billion in transactions. Approximately $70 billion exchanged hands over Alibaba's second-largest site, Tmall, during the same time. For perspective, Amazon.com Inc. (Nasdaq: AMZN) handled $100 million and eBay Inc. (Nasdaq: EBAY) handled $54 billion in 2013.
Editor's Note: Many investors are hoping to cash in on the Alibaba IPO by making the "obvious" move. But there's another way. I'm talking about a unique "backdoor" company that most people have never heard of before. Our research shows you can reap huge profits on this play right now - before BABA stock starts trading. Go here to learn more.