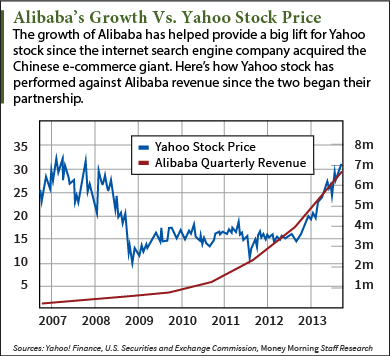 Yahoo Inc. (Nasdaq: YHOO) stock has been rising over the last two years ahead of the Alibaba IPO, given its relationship with the massive Chinese e-commerce company.
In fact, Alibaba's value to Yahoo is so strong it's been the main contributor to Yahoo's earnings…
To understand Alibaba's value to Yahoo better, it's best to look at the popular Sunnyvale, Calif.-based multinational Internet company as two separate businesses.
The first is what YHOO is at its surface, or it's "core business." That is, a tenured tech company offering a wide array of online services, including a search portal, e-mail, web hosting, social media, and advertising, just to name a few.
The other can be explained as a lucrative international investment house that puts a heavy emphasis on Asian markets.
Here's how those two vastly different businesses have been doing, and where Alibaba Group Holding Ltd. (NYSE: BABA) factors in…
Yahoo's Value Without Alibaba
YHOO's core business operations have been struggling for years. When the effects of the recession started to sink in around 2009, YHOO's underlying troubles began to surface.
Unable to compete with Google Inc.'s (Nasdaq: GOOG, GOOGL) seeming online search engine hegemony, and trying to poach advertising dollars from growing competitors like Facebook Inc. (Nasdaq: FB), YHOO's biggest challenge was its inability to compete for market share in a difficult sector.
After growing revenue 3.4% in 2008, YHOO posted three consecutive years of revenue decline. In 2011, sales saw their biggest drop to the tune of 21.2% in 2011.
The troubles in 2011 led to the firing of then-Chief Executive Officer Carol Bartz, who failed to remedy the troubled internet firm's dwindling revenue numbers, and corporate governance continued to hamstring an often referred to YHOO "turnaround" that seemed perpetually out of reach. Just four months after hiring new CEO Scott Thompson, he was fired for fudging his resume.
YHOO then called on Marissa Mayer to lead the turnaround.