The Alibaba Group Holding Ltd. (NYSE: BABA) stock price closed at $89.89 today (Monday), the stock's second full day of trading on the New York Stock Exchange. That was a drop of 4.2% from Friday's closing price.
BABA stock opened the day at $92.64, and dipped as low as $89.50 around 12 p.m. From there, BABA shares hovered around $90 for much of the afternoon.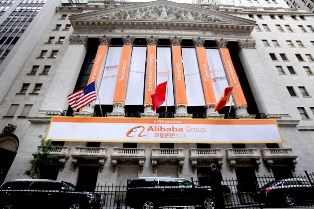 It was announced today that the Alibaba IPO was officially the largest initial public offering in history, after the deal's underwriters exercised an option to increase the deal by 15%. Through a process known as a "greenshoe option," Alibaba's underwriters purchased an additional 48 million shares at the $68 offer price.
The greenshoe option brought the Alibaba IPO price total to a whopping $25 billion. That easily outpaced the $22.1 billion the Agricultural Bank of China Ltd. raised in its 2010 IPO.
On Friday, Alibaba shares opened trading at $92.70 – a 36% increase from the stock's offer price of $68. BABA shares closed their first day of trading up slightly to $93.89.
According to Bloomberg, that was the largest first-day pop for a company holding an IPO of at least $10 billion.
Trading volume for BABA stock was still high on the day, reaching 66 million. On BABA's first day on the market, more than 271 million shares exchanged hands.
At today's price, Alibaba has a market value of roughly $221 billion. That's a figure that analysts have been watching very closely throughout the Alibaba IPO process, because the Chinese e-commerce firm has already reached a higher market cap than many established U.S. tech companies.
Currently, Facebook Inc. (Nasdaq: FB) is valued at $200 billion, while e-commerce competitors Amazon.com Inc. (Nasdaq: AMZN) and eBay Inc. (Nasdaq: EBAY) have market caps of just $153 billion and $65 billion, respectively.
That's also a figure that Alibaba's Founder Jack Ma seems to be following closely.
"We want to be bigger than Wal-Mart," Ma said last week. "We hope in 15 years people will say this is a company like Microsoft, IBM, Wal-Mart; they changed, shaped the world."
Wal-Mart Stores Inc.'s (NYSE: WMT) $246 billion market cap is currently within reach for Alibaba.
The BABA stock price may have dipped 4% today, but investors should not be concerned. As Money Morning's experts have pointed out for months, BABA stock is an excellent long-term investment.
In fact, it's the type of rare profit opportunity that Money Morning's Executive Editor Bill Patalon says "only comes around once or twice in an investor's life."