It can be very easy to be down on silver at the moment, as the silver futures market activity gives a firm advantage to the white metal's bears.
But what silver futures also indicate is an unsustainable downward spiral for silver prices that is more than ready to reverse itself as silver trades at its 2014 lows.
You see, the current silver price slump has been aggravated by speculators.
These speculators buy and sell contracts that promise the delivery of silver at a set price. However, these traders will almost never demand the actually delivery. Instead, they'll hold the contracts until prices move in their favor and make their contracts more valuable.
When silver speculators go short, they are essentially selling borrowed silver with an obligation to buy it back later. If all goes as planned for a silver short, prices will decline and when they buy it back, they can pocket the difference between what they pay and the price they initially sold it at.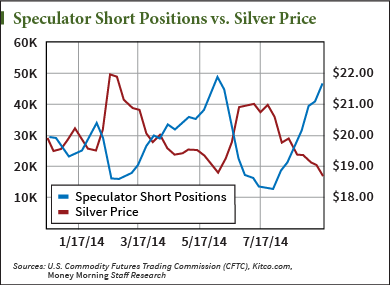 As Jeffrey Christian, managing partner at CPM Group wrote in an email to Money Morning, speculators can help put upward or downward pressure on silver prices depending on which side of the trade they are on and in what volumes.
"When there are few shorts, that leaves the price vulnerable to renewed short selling," Jeffrey Christian wrote. "So, too, when there are a lot of longs, that leaves the price vulnerable to profit-taking selling by the longs."
As of the most recent data, speculators currently hold 235.5 million ounces of silver in short positions underlying 47,093 contracts. This is an increase of 5,426 contracts from the week before. It's also only 1,891 contracts away from a historic record that was reached earlier this year, according to the U.S. Commodity Futures Trading Commission (CFTC).
This is significant because the current session of short covering began on July 29, when shorts stood at a 2014 low of 12,603 contracts. It explains why since then, prices have fallen $2.77 an ounce to $17.79 as of Friday's close, good for a 13.6% drop.
But it also represents a pattern seen earlier this year, when massive short covering inevitably led to a six-week bull session.
And silver is ready for it again…