We're entering a rising interest rate environment for the first time in 33 years.
This is a watershed market event - a shift really - that will change how you invest. In a moment I'll explain what it means for your money and detail three of the best investments you can make now to protect yourself and profit.
But first I want to show you why I'm so certain, not only that rates will rise, but what is going to cause it.
It all comes down to one number.
The Market's "Truth Serum"
The 10-year Treasury yield serves as the "truth serum" for the markets. That's because bond prices and yields have an inverse relationship: When yield is falling, that means that the price of bonds is rising.
At the same time, so is risk.
Many people don't think of rates this way, but they should because rates reflect overall economic conditions. The higher the risks, the more premium needs to be attached to convince investors that U.S. bonds are worth owning.
If that doesn't make sense, think about it this way. Bond rates are a lot like insurance premiums. You and I probably have pretty cheap premiums because we've been driving for years. But try pricing out a 16 year old with no experience in a sports car - the risks are a lot higher that he'll have a fender bender so the premiums charged to insure him are higher too.
This makes sense if you look at the "yield curve" covering everything from near-term bonds to those that mature 30 years from now. It's far harder to predict events 30 years from now than it is 2 months from now, so the "yield" is normally higher to compensate for the unknown risks between now and then.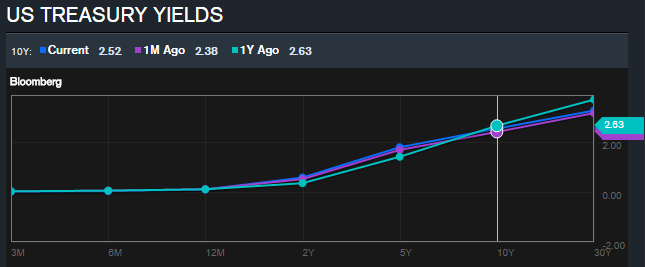 So why is the 10-year so important?
There are any number of reasons, but what you need to know is that the 10-year Treasury is among the world's most liquid financial instruments.
It's traded by virtually every institution in the world, has exposure to global risk and the global economic outlook, and by implication is related to the staggering derivatives market that is an estimated $1.5 quadrillion deep at this point. As such, it's a proxy for the world's hopes, fears, and aspirations.
More to the point, the 10-year yield tells you everything you need to know about what's going on behind the scenes. There's simply no other indicator with such power. I say that because with an aggregate value approaching $100 trillion, the bond market is five times bigger than the stock market.
So forget the policy wonks and even Yellen. If you want to know what the men and women who make trillions of dollars in decisions daily with real money are thinking, this is the only number you need to know.
When traders are clinging to bonds, as they have been recently despite a White House that's desperate to prove to America that things are improving, it tells you that they're shoring themselves up for a coming downturn rather than positioning themselves to rake in returns during the good times.  
This is why you've heard me talking about how "stubborn" the 10-year yield has been for months now.
This suggests that investors and traders alike see the overall economic picture for the U.S. as an increasingly risky one. It's also an unmistakable sign that the Federal Reserve risks losing control. And, finally, it reflects an utter lack of confidence in the Fed's low-interest rate policies, as reflected by a drop in the 10-year yield from a high earlier this year to a low of 2.40% a few weeks ago. Since then, the yield has recovered to 2.52% as I write this, but that's certainly nothing to write home about.
This lack of control over the Treasury's tumbling 10-year yield makes our financial system vulnerable to attack. Unfortunately, when I see this weakness, I know that derivatives traders do, too. The Fed also has to be well aware that at some point, a gang of derivatives traders or a Soros-like figure will call its bluff and massively short our currency, leaving the U.S. economy - and Yellen's legacy - in free fall.
Yellen and her advisers know full well what has happened before when a government leaves it to outside forces to re-introduce them to fiscal reality. In 1992, George Soros famously "broke" the Bank of England, betting that the government couldn't fight market forces indefinitely by propping up the pound's fixed exchange rate. Yellen knows that outside forces could call a similar bluff by her Federal Reserve, massively shorting our currency via derivatives bets that force higher rates with disastrous results for the U.S. economy and your portfolio.
That's why interest rates have to rise, and soon. If Janet Yellen doesn't do it of her own accord, the risk is that traders will do it for her.
The only question is when. I don't know that answer. No one does. Frankly, it's anyone's guess when the massive game of chicken that the Fed and these traders are playing will end.
But there's only one outcome: higher interest rates. Fortunately, there are steps you can take now to survive any market shock, or even profit from it.
The Best Investments to Prepare You for Rising Rates
Join the conversation. Click here to jump to comments…
About the Author
Keith is a seasoned market analyst and professional trader with more than 37 years of global experience. He is one of very few experts to correctly see both the dot.bomb crisis and the ongoing financial crisis coming ahead of time - and one of even fewer to help millions of investors around the world successfully navigate them both. Forbes hailed him as a "Market Visionary." He is a regular on FOX Business News and Yahoo! Finance, and his observations have been featured in Bloomberg, The Wall Street Journal, WIRED, and MarketWatch. Keith previously led The Money Map Report, Money Map's flagship newsletter, as Chief Investment Strategist, from 20007 to 2020. Keith holds a BS in management and finance from Skidmore College and an MS in international finance (with a focus on Japanese business science) from Chaminade University. He regularly travels the world in search of investment opportunities others don't yet see or understand.