The Home Depot data breach is huge, and yet the general public seems frustratingly unconcerned about it.
Who should worry about data breaches?
Everyone.
You as an individual are at risk. Your bank account is at risk. Your credit is at risk. You're at risk in ways you never thought about.
Merchants are at risk, maybe to the tune of tens of billions of dollars.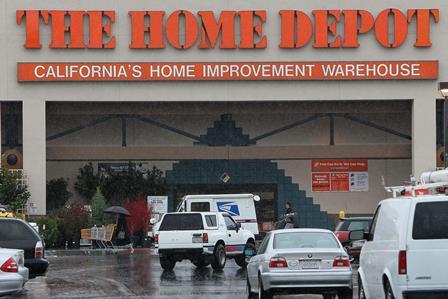 Banks are at risk. In fact, the whole financial system could be at risk.
And we hate to think about it, but the entire country is at risk.
And then there's the security implications of breaches of critical U.S. infrastructure imply. And the global geopolitical implications of cyberwar.
That's scary.
We know that's all out there, but today I'm going to put a single data breach under a microscope.
So, put on your lab coats and let's get started…
The E-Castle Walls Are Coming Down
Today, I'm focusing on basic credit and debit transactions.
They're not basic anymore.
The electronic world we've constructed isn't impenetrable. In fact, it's pretty porous.
Almost every day businesses are attacked by hackers, by malware, by criminals intent on stealing proprietary information, trade secrets, and customer information. They're going after our payment card numbers, passwords, addresses – anything they need in order to steal or make money.
Corporate and government data breaches are so common now that there's a website dedicated to what's happening: www.DataBreachToday.com.
The data breaches that have garnered the most media attention recently are the Target Corp. (NYSE: TGT) and The Home Depot Inc. (NYSE: HD) thefts.
The more recent Home Depot breach dwarfs the one last year at Target. So let's zero in on what happened at the hardware giant and what's going to happen in the future.
The Home Depot Data Breach Was Massive
Home Depot's more than 2,000 North American stores were all affected. Some 56 million Home Depot customers' payment cards were exposed – about 40 million Target customers' cards were breached.
Needless to say, the lawsuits are starting to fly.
Join the conversation. Click here to jump to comments…
About the Author
Shah Gilani is the Event Trading Specialist for Money Map Press. In Zenith Trading Circle Shah reveals the worst companies in the markets - right from his coveted Bankruptcy Almanac - and how readers can trade them over and over again for huge gains.Shah is also the proud founding editor of The Money Zone, where after eight years of development and 11 years of backtesting he has found the edge over stocks, giving his members the opportunity to rake in potential double, triple, or even quadruple-digit profits weekly with just a few quick steps. He also writes our most talked-about publication, Wall Street Insights & Indictments, where he reveals how Wall Street's high-stakes game is really played.