Alibaba stock options began trading this morning (Monday), allowing investors who missed out on Alibaba Group Holding Ltd. (NYSE: BABA) stock's initial gains another way to play the security.
While options contracts are usually a great way for experienced investors to make additional profits on a stock, the Alibaba stock options will not come cheap.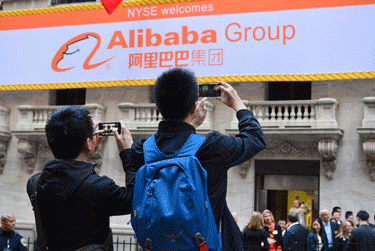 Options market traders said Friday that they expect demand for Alibaba stock options to be very high on the first day of trading because of BABA stock's popularity. More than 271 million shares exchanged hands the day BABA hit the market, and it has averaged a trading volume near 40 million every day since.
"I would expect Alibaba's options to have a built-in demand, so to speak, as obviously all the people who wanted to get into the IPO at the beginning didn't," TD Ameritrade's chief market strategist J.J. Kinahan told Reuters.
That demand will be the first factor driving up the price for Alibaba stock options, but it isn't the only reason they'll cost more…
Why Investors Will Pay a Premium for BABA Stock Options
Another reason options traders can expect a higher price tag is BABA's implied volatility. The higher the volatility of the stock, the higher the price for the option contract. Following an IPO, volatility is typically very high for any stock because it has such a high trading volume.
It's anticipated that put options could cost much more than call options for BABA stock, at least initially. Traders will bet that the BABA frenzy will die down and take the share price with it. It's common for stocks that see large gains following their IPOs to see a correction in the stock price following the first few days or weeks of trading.
Alibaba stock was offered at $68 per share through the IPO, and closed its first day of trading at $93.89 – a gain of 38%. Since then, BABA stock has already started to settle back down, with an opening price of $89.62 today. That's a slip of almost 5%.