Crude oil prices tanked more than 3% today (Tuesday) with West Texas Intermediate (WTI) crude dropping to $90.85 shortly before 3:00 p.m. on news that OPEC's oil supply has reached its highest level in nearly two years.
Currently, WTI is trading just above the 52-week low of $87.85 that it set in January. According to MarketWatch, oil ended the quarter down 13%, which was its worst quarterly performance since 2012.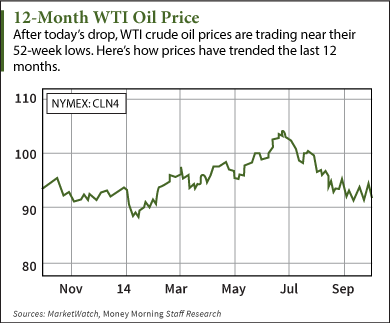 Brent crude prices were down 2.8% to $94.49 per barrel. That's a 20.5% drop from the high of $118.90 it reached in February of 2013.
A Reuters survey today found that supply from OPEC averaged 30.96 million barrels per day (bpd) in September. That was the organization's highest output since November 2012, and was up from 30.15 million bpd in August.
The survey attributed the supply glut to a continued recovery in Libya and higher output from Saudi Arabia, Iraq, Nigeria, and Angola.
Oil prices hit highs in June as geopolitical tensions in Iraq and Russia sent WTI prices up to $104.44. Since then, OPEC has continued to boost output, which has sent crude prices lower. According to the Wall Street Journal, some OPEC countries are concerned about the drop in prices and have called for OPEC to cut its production. So far, OPEC isn't ready to slow production.
The organization will be meeting on Nov. 27 in Vienna, and a debate regarding output is almost guaranteed.
While today's report was the main factor behind the huge drop in oil prices, Money Morning's Global Energy Strategist Dr. Kent Moors says that isn't the only reason oil prices have been dropping...
Why Oil Prices Continue to Drop
In fact, Moors says there are actually two more reasons the price of oil has been dropping since June.
"Second, this is also the time of year - between the end of the summer driving season and the beginning of the transition into heating fuel for the winter months - when a decline in oil prices usually occurs," Moors said. "Only this year the decline has been more pronounced than usual."
But according to Moors, the third reason is also the most confusing...