The Alibaba Group Holding Ltd. (NYSE: BABA) stock price has remained very stable since it made its debut on the New York Stock Exchange on Sept. 19, a good sign for those investing in BABA stock.
After BABA's first day of trading – when it jumped out of the gates to a high of $99.70 – it has traded in range between $92.95 and $86.04. This price stability is uncommon following most high-profile IPOs.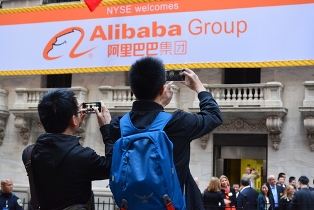 In 2012, Facebook Inc. (Nasdaq: FB) had a range of $36.66 to $26.83 in the eight trading sessions following its debut. At the low end of that range FB stock was down 36% from its open price – in less than two weeks.
According to analysts at Wedbush, the stability that BABA stock has shown is part of the reason the firm has recently reiterated an "Outperform" rating on the stock with a price target of $105 from $80 "as shares move past pre-IPO risks."
"A successful IPO and stability in the first week of trading remove IPO risk and create new market price in the middle of comparable range," Wedbush analysts wrote in a note to investors.
"We believe the market will continue to vet the stock over the next few weeks and months. Given the broad attention and surprising level of retail investors involved the day of the IPO, we believe investors appreciate the growth aspects and profitability profile of Alibaba."
Today (Wednesday), BABA dropped to $86.04, its lowest price since BABA debuted, but is still up 26.5% from its offer price of $68.
However, it's worth noting that today's slide for Alibaba coincides with another sell-off of all three major indexes. In early trading this morning, the Dow was down as much as 178 points.
In fact, since Sept. 19, the Dow Jones Industrial Average has dropped 2.2%, the S&P 500 has fallen 2.7%, and the Nasdaq has slipped 3.3%. So the timing for BABA's debut has come during a market sell-off, which makes its post-IPO stability even more impressive.
But that stability is just one bullish sign for Alibaba long term. Money Morning experts have been tracking Alibaba for months and have found extremely bullish catalysts that will drive BABA stock for years…
How Big Alibaba Could Become