It's a combination of the dollar's tenuous strength and elevated downside speculation that explains why silver prices are down right now.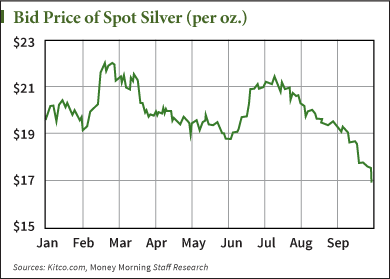 Yesterday (Tuesday), the bid price of spot silver dove $0.49 to $16.97 an ounce by market close, the first time it's been below $17 since early 2010. This rounds out a September where the white metal got pummeled, falling 12.8% for its worst month of 2014. On Sept. 19, it had its worst day on the year, falling $0.79. It's now down on the year 13.3%.
Silver futures – contracts promising the future delivery of physical silver – dropped 12.5% on the month, falling to $17.06 as of yesterday's close. That's a decline of $2.43.
Exchange-traded funds backed by silver were also clobbered in September. Silver ETFs, such as the iShares Silver Trust (NYSE Arca: SLV) closed yesterday at $16.35, a 12.6% descent on the month, and the ETFS Physical Silver Shares (NYSE Arca: SIVR) fell to $16.78, also down 12.6%.
This slump, however, can be explained by a number of easily identifiable factors that are not sustainable in the long-term, and once they clear up, silver will be able to reverse this fall.
Just look at the strength of the dollar. It's at four-year highs just as silver prices are at their four-year lows.
And the last time the dollar hit its peak in June 2010, when silver was trading at $18.468, the white metal marched forward to $30.91, or 67.4%, by the end of December.
And if the dollar's strength is indeed at its peak, and there are a number of indicators to suggest that, then we can expect similar movements for silver going toward the end of 2014.
And futures activity suggests that silver's bears are prepping for a squeeze.
Here's why the dollar's unwarranted strength, and the high volume of silver short-side speculators, is coming to an end.