Why oil prices are falling: Crude oil prices fell again early this morning (Thursday), as West Texas Intermediate (WTI) crude dropped as much as 2.8% to $88.18 per barrel for November delivery. That's a 20% drop from the three-year highs WTI set in June, and just above the 52-week low of $87.85 futures contracts set in January.
Brent crude oil prices were down to $92.45 per barrel, or 1.8%, shortly after 9:30 a.m. today.
Now the question that needs answering: Why are oil prices falling now?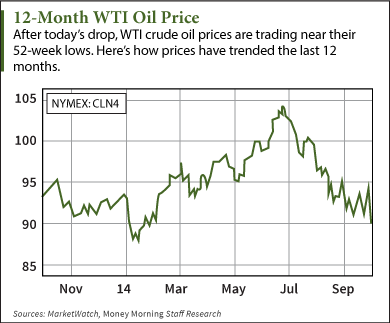 The price of oil has continued to drop since June as the global oil supply exceeds demand. Earlier this week, a Reuters survey indicated that supply from OPEC had reached a two-year high of 30.96 million barrels per day (bpd) in September. That was up from 30.15 million bpd in August.
The supply glut is attributed to a recovery in Libya, as well as increased output in Saudi Arabia, Iraq, Nigeria, and Angola. The shale boom in the United States has also had a huge impact on global oil supply, as the U.S. has become the world's largest producer of liquid petroleum.
"We have more than enough supply out there and demand is not catching up," Tyche Capital Advisors' fund manager Tariq Zahir told Bloomberg. "U.S. production is just incredible. Fundamentally we are just producing so much oil."
Another development affecting prices today was the decision by Saudi Arabia to lower its official selling prices, as government officials expect oil to continue trading at low levels. Many analysts expected Saudi officials to curb production in the country in an effort to send prices higher.
OPEC will be meeting on Nov. 27 in Vienna, and a debate regarding output is almost guaranteed. Reportedly, some OPEC countries are concerned about the drop in prices and have called for OPEC to cut its production.
Now for what this means for the future oil market: Money Morning's Global Energy Strategist Dr. Kent Moors says that falling crude oil prices could trigger an unpredictable, dangerous mess for numerous countries around the world. Here's the "recipe for disaster" we're facing now...
Related Articles: