There are a number of factors that point toward why silver prices are down today (Friday), but the most plausible explanation comes from positive economic data released this morning.
The jobs report released this morning revealed that unemployment ticked down to 5.9% – the first time it has been below 6% since July 2008 – and sent prices for spot silver down as much as 3% from yesterday's close of $17.095 an ounce.
Precious metals get a boost from negative economic data and inflation fears as a safe haven store of value. While gold is the viewed as the go-to metal, silver gets a boost too on bearish market sentiment for traditional assets such as stocks or the dollar.
Silver prices have been trending downward since July 11, when they topped out a month-long buying spree at $21.445. Since then, prices have fallen 20.3% as of market close yesterday.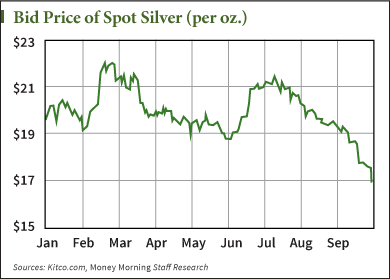 As the silver price chart to the right shows, the almost three-month sell-off has been punishing for silver prices. But we're still bullish on the white metal given the easily identifiable factors undergirding the price slide.
The first of which is the strength in the dollar. Topping out at close to four-year highs, the dollar has been on a roll as of late. This optimism has provided a headwind to silver and kept a lid on any major price gains.
Investors, don't get scammed: 7 Steps to Make Today to Tell if Your Gold Is Real
Additionally, silver speculators are still bearish on the metal in high volumes. Traders going short on the metal – that is, taking out futures contracts that appreciate in value as the white metal's price declines – are near the highest they've ever been.
For silver to reverse this slump, it's going to need to see the unwarranted optimism surrounding the dollar subside and more silver speculators to go long, both of which could happen soon and price gains could be not far off.
Meanwhile, the current positive economic news has been no help, and only reinforces the much more entrenched factors keeping silver down.
Now for Gold: Similar forces are at work in the much larger market for gold. Here's why gold prices hit a low going into October…