Dividend investing news, Oct. 6, 2014: Dividend growth in the third quarter of 2014 set a record, but Q4 is widely expected to surpass Q3's gains.
Among the 30 Dow Jones Industrial Average components, seven members hiked their payouts in Q3. The blue-chip benchmark, yielding 2.2%, collectively shelled out $96.20 in distributions in the July-September period, up 12.4% year over year.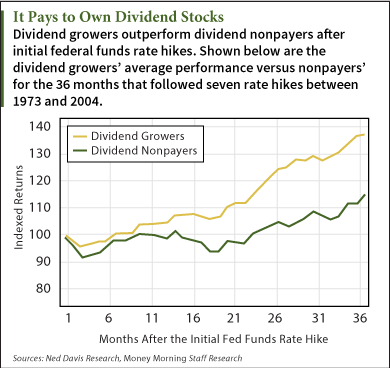 Investors continue to flock to dividend stocks amid nearly six years of a near-zero interest rate environment. But with rising rates on the horizon, high yield is becoming increasingly less important than dividend growth potential.
You see, companies that continuously increase their payouts have historically performed better than those that do not pay dividends after federal funds rate hikes, according to Ned Davis Research.
So a portfolio that includes dividend growers is one that tends to beat the market.
Last week 14 companies grew their dividends and one announced a stock split. Here's the full list of dividend enrichments for the week ending Oct. 3.
Dividend Investing: 15 New Payout Hikes
American Financial Group Inc. (NYSE: AFG) upped its quarterly dividend $0.03, or 14%, to $0.25 a share for a 1.73% yield.
Azz Inc. (NYSE: AZZ) increased its quarterly dividend a penny to $0.15 a share for a 1.4% yield.
Bank of the Ozarks Inc. (Nasdaq: OZRK) boosted its quarterly payout 4.2% to $0.125 a share for a 1.5% yield. The Little Rock, Ark.-based company has increased its quarterly dividend in each of the last 17 quarters.
Black Rock Health Sciences Trust (NYSE: BME) sweetened its monthly distribution 15.1% to $0.165 a share for a 5.09% yield.
If you aren't a Money Morning Member, sign up now for free to see 11 more dividend stocks that just raised payouts. You'll also get this dividend investing report with three superior picks to help grow your income: The Best Dividend Strategy for Building Fortune in a Low-Yield Era
Calavo Growers Inc. (Nasdaq: CVGW) increased its annual payout a nickel, or 7.1%, to $0.75 a share for a 1.66% yield. Since its 2002 initial public offering, the global avocado leader's annual cash dividend on its common stock has risen a whopping 275% from $0.20 per share. "Calavo's steadily upward annual cash dividend is indicative of both the underlying strength of our operating performance, as well as confidence in the company's prospects longer term," said Calavo Chief Executive Officer Lee E. Cole.
CLARCOR Inc. (NYSE: CLC) boosted its quarterly dividend $0.03 to $0.20 a share for a 1.29% yield. The hike continues the Tennessee-based company's consecutive streak of increasing dividends every year since 1983.
Eaton Vance Senior Income Trust (NYSE: EVF) goosed its monthly payout 3% to $0.034 a share for a yield of 6.27%.
Hingham Institution for Savings (Nasdaq: HIFS) hiked its quarterly dividend 3.7% to $0.28 a share for a 1.37% yield. The Hingham, Mass-headquartered company has boosted its dividend in each of the last 20 years. The Oct. 20 payout will mark Hingham's 83rd consecutive dividend payout.
John Hancock Patriot Premium Dividend Fund II (NYSE: PDT) juiced its monthly payout 12.5% to $0.09 a share for a 2.72% yield.
Kayne Anderson Energy Development Co. (NYSE: KED) boosted its quarterly dividend 1% to $0.52 a share for a 5.84% yield. The Oct. 24 distribution represents an increase of 14.3% over the same period last year.
Kayne Anderson Midstream Energy Fund Inc. (NYSE: KMF) fattened its quarterly payout 1.6% to $0.487 a share for a 5% yield. The increase marks a 6% year-over-year increase and is the 12th straight quarterly increase by the fund.
Nuveen All Cap Energy MLP Fund (NYSE: JMP) increased its quarterly dividend 1.2% to $0.336 a share for a 3.9% yield.
Nuveen Energy MLP Total Return Fund (NYSE: JMF) hiked its quarterly payout 1.6% to $0.327 a share for a 6.95% yield.
Resource America Inc. (Nasdaq: REXI) raised its quarterly dividend one penny to $0.06 a share for a 2.5% yield. This is the asset management company's third increase since July 2013. The Philadelphia, Pa.-based company's dividend has increased 100% since then.
Smith & Nephew Plc. (NYSE ADR: SNN) announced a 5-for-2 stock split payable on Oct. 14 to shareholders of record Oct. 13.
Don't forget to claim your free dividend investing report: The Best Dividend Strategy for Building a Fortune in the Low-Yield Era
Now for Today's Top Story: Last week's headlines were filled with news of eBay's plans to spin off its PayPal unit. This spin-off is great news for investors, and for a number of reasons. But the really big story here - and all the profits that will come with it - was missed. Here's the real high-profit story in the PayPal spin-off...
[epom key="ddec3ef33420ef7c9964a4695c349764" redirect="" sourceid=""]