It took quite a gas tank to fuel an Iowa-class battleship, which was once the crown jewel in the U.S. Navy's fleet. At 2.4 million gallons of fuel oil per fill-up, a ship like the U.S.S. Missouri could run for only 30 days of steady sailing.
But just as technology has produced bombers that can hit targets without being detected, the Navy has come a long way since then. Today's Navy is being built to travel more stealthily and use less fuel.
Believe it or not, this technology has its roots in hybrids like the Toyota Prius.
The difference is these ships can be armed with futuristic lasers…
The Navy's New Plan to "Reach Out and Touch Someone"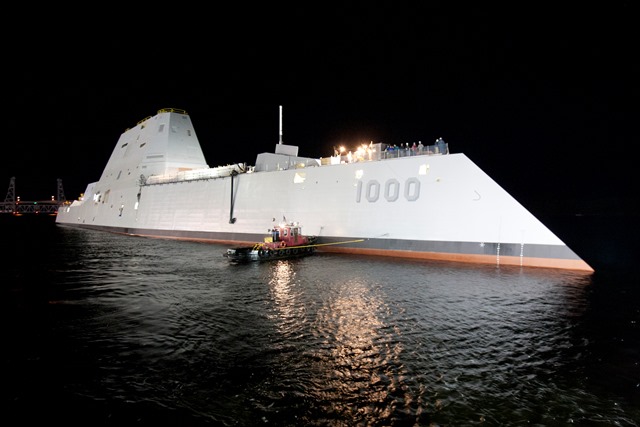 The newest Navy ships, such as the U.S.S. Zumwalt, are really giant electric generators. The Zumwalt, a 600-foot destroyer, has four diesel generators that make enough electricity to power 47,000 typical American homes, which is more than enough to propel the $3 billion, 15,000-ton ship.
That electricity powers electric motors that can propel the ship to speeds of 12 knots before needing its conventional gas turbine engines.
Like a Prius, this hybrid system saves fuel. The Zumwalt is in its testing phase, but a simpler, earlier version of the hybrid technology reduced fuel consumption by 16%.
Unlike the Prius, that same electricity powers the weapons of the future.
In fact, there's enough electricity left over to power two futuristic weapons: directed-energy weapons, which is what the Navy calls lasers, and a high-tech electromagnetic railgun.
The solid-state Laser Weapons System would allow the Navy to effectively neutralize threats such as aerial drones and swarm boats by shooting them with a beam of intense heat and destroying their internal parts, at a fraction of the cost of conventional weapons.
The railgun, which the Navy terms a "hyper-velocity weapon," can fire a projective at 7.5x the speed of sound as far as 125 miles, using electricity rather than explosives. The impact of a large shell striking a target at that velocity (more than 5,700 mph) is devastating.
By using multiple generators in different spots on the ship, the U.S.S. Zumwalt is much less vulnerable to enemy attack. In older ships, a strike at a centralized engine will disable the vessel; with the Zumwalt, the ship can continue even if one or two generators are knocked out.
And when it comes to stealth, the U.S.S. Zumwalt is unparalleled. Thanks to its quiet engines, hull design, and other technology, the ship only appears as a small fishing vessel on enemy radar.
Inspired by "Star Trek"
Like the U.S.S. Enterprise on the original "Star Trek," which could divert energy from its propulsion systems to fire weapons, the U.S.S. Zumwalt can distribute power for propulsion, weapons, or other operations as needed.
But the "Star Trek" similarities don't end there.