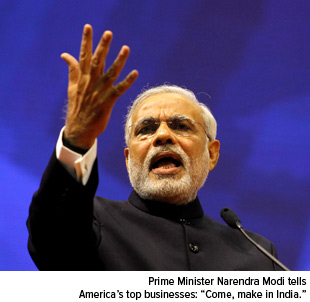 In the wake of his rock star reception at Madison Square Garden on Sept. 28, Indian Prime Minister Narendra Modi emphatically announced to our nation's top corporate and political leaders that India is now open for business.
Between Sept. 26 and 30, he met with not only U.S. President Barack Obama and other high-profile politicians, but also the chief executive officers of some of our nation's largest and most successful companies: Google Inc. (Nasdaq: GOOG, GOOGL), The Boeing Co. (NYSE: BA), PepsiCo Inc. (NYSE:
PEP), and General Electric Co. (NYSE:
GE), among others.
The only thing missing was a ribbon-cutting ceremony. 
Although U.S. Global Investors Inc. typically doesn't invest in India, the country has recently found itself in the driver's seat of global resources demand and production. This is a tailwind for our Global Resources Fund (MUTF: PSPFX), which maintains heavy exposure in the industries that India will increasingly need to support its more than 1.25 billion (and counting) citizens: oil and gas, chemicals, energy services and infrastructure, precious metals, and food.
India's culture is ancient, dating back more than five millennia, but it has a disproportionately young population. As the world's second-most populous country, India is home to roughly 600 million people under the age of 25.
That's close to half of its own population and a little less than twice the entire U.S. population. Over the next few years, this one generation will largely be responsible for charting the country's trajectory into its next stage of economic development.  
As old as India's culture is, millions of its citizens seek the contemporary American dream of opportunity and prosperity. And they rely on their new leader, former tea merchant Narendra Modi, as their ambassador of "hope for change," as he put it in his Sept. 25 op-ed in The Wall Street Journal.
Here's how Modi plans to deliver on this promise...