Short sellers have their knives out for GoPro Inc.
And that's the least of the wearable sports camera maker's problems right now.
GoPro's share price seems to be flopping around wildly on news: surging 11% after a new product announcement, then sinking the same after the company's founders found a loophole that allows them to sell some of their stock early.
The stock has spiked again since then – but I don't expect that to last.
I believe GoPro has done this well for this long – soaring more than 180% since its June initial public offering – because it is the poster child for a market sector that is set for a major boom.
According to the IDC forecasters, wearable tech will grow 78.4% through the end of 2018. If we want to get on the road to wealth that tech provides, then this is a sector we must cash in on.
But I don't want us to get hurt by messing with a risky stock like GoPro.
That's why today I'm going to show you how to invest in wearable tech – the entire sector – with a single investment that offers both safety and big profits…
Way Beyond Action Cameras
Don't get me wrong. I love GoPro Inc. (Nasdaq: GPRO) as a company. I like its story and I'm a fan of its technology – wearable cameras that "extreme" cyclists, surfers, and skiers use to capture and post their incredible stunts.
In this market, however, we just can't justify paying 80 times forward earnings. And besides being a risky stock, GoPro is just a start to the world of wearable technology.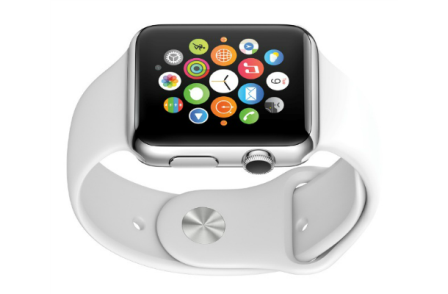 That became abundantly clear Sept. 9 when Apple Inc. (Nasdaq: AAPL) introduced the Apple Watch. Due out next year, the smartwatch can be integrated with the iPhone, used with the new Apple Pay mobile-payments system, and loaded up with dozens of goods from the App Store.
More to the point, I think it will be a huge success. Morgan Stanley agrees, saying that the Cupertino, Calif.-based tech giant could sell 30 million to 60 million Apple Watches in the first year alone.
That's huge.
According to the researchers at ON World, consumers purchased just 4 million smartwatches last year. But ON World predicts shipments will hit 330 million in 2018 – a stunning 8,150% increase in just five years.
And that's only one segment of the wearable tech market. Wearables also include medical devices, fitness and health monitors, GPS trackers, and virtual-reality headsets.
Google Inc. (Nasdaq: GOOG, GOOGL) has several fingers in the wearables glove. You know Google Glass. Worn as eyeglasses, the system displays text messages and maps, takes notes, records video, takes pictures, and displays video.
And Google is using its Android operating system to make an ecosystem play. Android Wear is designed to work with wearable devices from several developers and makers.
As much as I like GoPro, Apple, and Google, there's a much better way to play wearable tech, as I'll explain.
Join the conversation. Click here to jump to comments…
About the Author
Michael A. Robinson is one of the top financial analysts working today. His book "Overdrawn: The Bailout of American Savings" was a prescient look at the anatomy of the nation's S&L crisis, long before the word "bailout" became part of our daily lexicon. He's a Pulitzer Prize-nominated writer and reporter, lauded by the Columbia Journalism Review for his aggressive style. His 30-year track record as a leading tech analyst has garnered him rave reviews, too. Today he is the editor of the monthly tech investing newsletter Nova-X Report as well as Radical Technology Profits, where he covers truly radical technologies – ones that have the power to sweep across the globe and change the very fabric of our lives – and profit opportunities they give rise to. He also explores "what's next" in the tech investing world at Strategic Tech Investor.