The markets fell hard yesterday (Thursday), in the biggest one-day drop so far this year.
Traders kept their fingers on the sell button pretty much all day. The Dow Jones Industrial Average tumbled 335 points, the much broader S&P 500 Index got shellacked 41 points, and the tech-laden Nasdaq lost 90 points.
Yet this is NOT a "run for the hills" moment.
Instead, it's a fantastic short-term trading opportunity.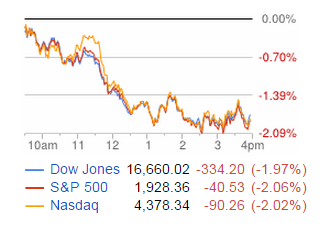 Reversals usually are. They result in a fundamental change in the pricing assumptions that otherwise propel prices higher. Most of the time they're the result of changes in some fundamental catalyst like interest rates, Fed notes, or, in this case, the IMF's report that global growth will only hit 3.3% this year.
So what do you do?
There are a lot of ways you can profit when the markets change direction. In fact, the menu of choices makes ordering designer coffee seem positively simple. There are shorts, leveraged inverse funds, spreads, derivatives, and futures contracts with all kinds of exotic names (though most are simply ways to separate you from your money).
If you want simple protection that you can "set and forget" as an investor, consider buying a fund such as the Rydex Inverse S&P 500 Strategy Fund (MUTF: RYURX). It's an inverse fund that tracks the S&P 500 and rises 1% for every 1% the index falls. Studies suggest that having 2% to 5% in a choice like it can not only dampen overall portfolio volatility, but hedge the income stream and principal value of your investments at the same time.
It's so effective that I advocate keeping a permanent allocation to inverse funds for just these kinds of market conditions. That way you're never caught by surprise.
But if your goal is quick profits, get ready to make this trade instead...
Join the conversation. Click here to jump to comments…
About the Author
Keith is a seasoned market analyst and professional trader with more than 37 years of global experience. He is one of very few experts to correctly see both the dot.bomb crisis and the ongoing financial crisis coming ahead of time - and one of even fewer to help millions of investors around the world successfully navigate them both. Forbes hailed him as a "Market Visionary." He is a regular on FOX Business News and Yahoo! Finance, and his observations have been featured in Bloomberg, The Wall Street Journal, WIRED, and MarketWatch. Keith previously led The Money Map Report, Money Map's flagship newsletter, as Chief Investment Strategist, from 20007 to 2020. Keith holds a BS in management and finance from Skidmore College and an MS in international finance (with a focus on Japanese business science) from Chaminade University. He regularly travels the world in search of investment opportunities others don't yet see or understand.