The bears are out in full force trumpeting the news that there's a tech bubble, and the steep decline has started.
As of today's opening, the Nasdaq Composite has dropped 7.3% in just over three weeks. That drop followed an incredible run where the index climbed 28% from September 2013 through September 2014.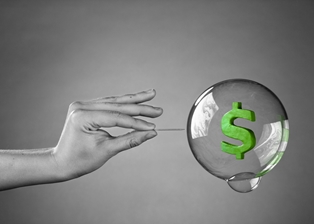 But according to Money Morning experts, this is unequivocally not a tech bubble.
For insight, we turned to Money Morning's Defense and Tech Specialist Michael Robinson and Executive Editor Bill Patalon, who combined have more than 60 years of experience analyzing and reporting on the technology sector.
According to both Robinson and Patalon, the recent dip we've seen in the markets is a normal occurrence, not the sign of impending doom. In fact, all the major indexes have hit a rough patch recently, not just the tech-centric Nasdaq.
Since hitting a high on Sept. 19, the S&P 500 has dropped 5.6%. The Dow Jones Industrial Average hit a high of 17,350.64 the same day and has slid 4.7% since.
These tremors could signify a correction in the coming months - but make no mistake - this is not the second coming of the dot-com crash...
What a Tech Correction Looks Like
A stock market correction is defined as a 10% drop from a market's high. A bear market is reached after a 20% dip.
On the other hand, a "bubble" bursting is a cataclysmic crash in the market. At the height of the dot-com crash, the Nasdaq fell 80% in just two years. And it still hasn't reached the highs of over 5,000 points it set in 2000, more than 14 years later.
When the Dow Jones collapsed in October of 1929, it took 25 years for the index to reach its previous peak.
We're not anywhere near that now. In fact, we're still nearly 3% away from a true correction.
And this recent dip in the markets is actually a pattern that Robinson has been expecting all year...
"I predicted this would occur months ago - I said the Dow was going to hit 17,000 and then people are going to panic," Robinson said. "You've gone five years without a major correction and people are a little bit worried. You start to see a small correction and people start to panic."
According to Patalon, investors could end up seeing a prolonged dip in the market, but not a crash.
"It's a possibility that we see a long-term correction, possibly even a bear market," Patalon said. "But this is not the dot-com era all over again."
Here's how the current tech climate differs from the infamous crash of 2000 to 2002...