Multinational stocks have started to feel some negative ripple effects of the rising U.S. dollar index.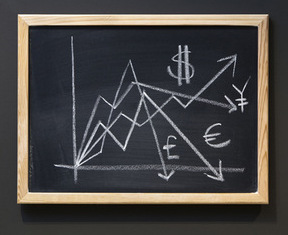 While a rising U.S. dollar index can have benefits, companies with a lot of global business face reduced sales and profits as their goods grow more expensive.
The stronger U.S. dollar has already hit Ford Motor Co. (NYSE: F).
Weaker sales in Europe and emerging markets have forced Ford to cut its projected 2014 pre-tax profit from the $7 billion to $8 billion range to $6 billion. Unhappy investors have pushed Ford stock down more than 15% since that Sept. 29 announcement.
"This is a big deal for U.S. companies that are really starting to feel the pain in the bottom line," Gina Sanchez, a Chantico Global told CNBC. "We're also starting to see the strong dollar seep in. It's depressing currencies all around the emerging markets, and that's also starting to hurt anybody who is selling abroad."
And the U.S. dollar climb is not over…
Why the Rising U.S. Dollar Index Will Keep Going Up
The greenback has been on a tear since July 1. The U.S. dollar index, which charts the strength of the dollar against six world currencies, is up nearly 7.6% since then. In fact, the index just enjoyed its biggest quarterly increase since 2008.
In the short term, the U.S. dollar index only figures to get stronger. That's because the central bankers of other major currencies, namely the European Central Bank and the Bank of Japan, are committed to policies of weakening their currencies.
Meanwhile, the U.S. Federal Reserve will end one of its currency-weakening policies, quantitative easing, at the end of the month. And several Fed governors have suggested the U.S. central bank will start to raise interest rates at some point next year. That will further bolster the U.S. dollar.
And the stronger U.S. dollar isn't the only concern for multinationals. Emerging economies are struggling, as is Europe. Even the China growth engine is slowing.
Of course, a strong U.S. dollar makes those issues worse.
For U.S. companies with substantial overseas sales, this means an extended period of pain.
So which companies will get hurt the most by the rising U.S. dollar index?
Here are the companies investors need to watch, and the best strategy for dealing with this situation.