Eight new IPOs will come to market this week to continue this busy year for new stocks. We've now seen 35 initial public offerings since Alibaba Group Holding Ltd. (NYSE: BABA) stock hit the market Sept. 19.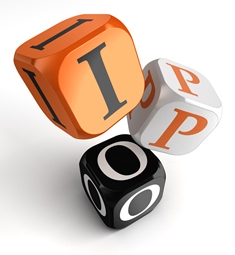 Only six IPOs took place in the month leading up to the Alibaba IPO, a sign that companies waited until after BABA to go public.
The biggest IPO to watch this week is Zayo Group Holdings (NYSE: ZAYO). The stock will start trading Friday, and the fiber-optic company will raise roughly $650 million.
But that's not the only deal to watch this week. In fact, this week's new IPOs should raise more than $1.8 billion combined.
Here are the details behind each of this week's upcoming offerings...
This Week's Eight New IPOs
Zayo Group Holdings Inc. (NYSE: ZAYO) provides fiber-optic bandwidth infrastructure services. It had revenue of $1.1 billion last year. ZAYO will sell 28.9 million shares at a $21 to $24 price range, and should raise $650 million. The firm is expected to have a market cap of $5.3 billion after the IPO. ZAYO shares will trade on the New York Stock Exchange starting Friday, Oct. 17.
Great Western Bancorp Inc. (NYSE: GWB) is a full service, regional bank holding company that operates in the Midwest. Through its IPO, GWB plans to raise $360 million by offering 16 million shares at a $21 to $24 range. Last year, GWB had revenue of $376 million. After the IPO, analysts expect GWB to have a market value of $1.3 billion. GWB will make its debut Wednesday, Oct. 15, on the NYSE.
Dominion Midstream Partners LP (NYSE: DM) is a spin-off of Dominion Resources Inc. (NYSE: DM). It owns a liquefied natural gas (LNG) terminal in Lusby, Md. DM will sell 17.5 million shares this week. At the midpoint of its $19 to $21 range, DM will raise $350 million. In the last 12 months, DM reported $254 million in revenue. The company will have a valuation of roughly $1.3 billion after the IPO. DM shares will be available on the NYSE starting on Wednesday, Oct. 15.
Money Morning Members: Continue reading for the rest of this week's new IPOs...