Last week's stock market correction meant a 464-point plunge in the Dow Jones Industrial Average. We saw a continued sell-off in energy stocks and a slump in commodity prices, specifically oil.
One of the main drivers of commodity demand, as I often point out, is PMI, or purchasing managers' index. Here's what we covered on the subject in our recent webcast.
PMI: Commodities' Crystal Ball
You look at the stock market as a precursor to economic activity six months out. If you're looking at commodities, you must be looking at PMIs.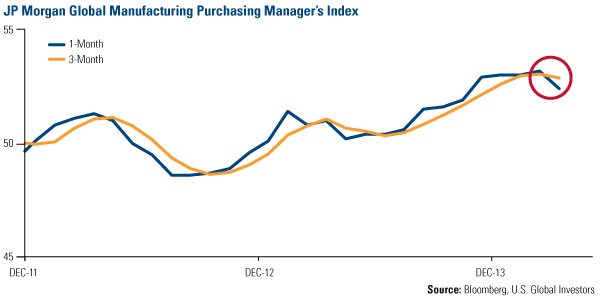 Our research shows there is a 60% to 80% probability of commodities and commodity stocks rising when the global PMI's one-month reading is above the three-month trend. When its one-month is below the three-month trend, there is a high probability of these sectors and stocks falling over the next six months.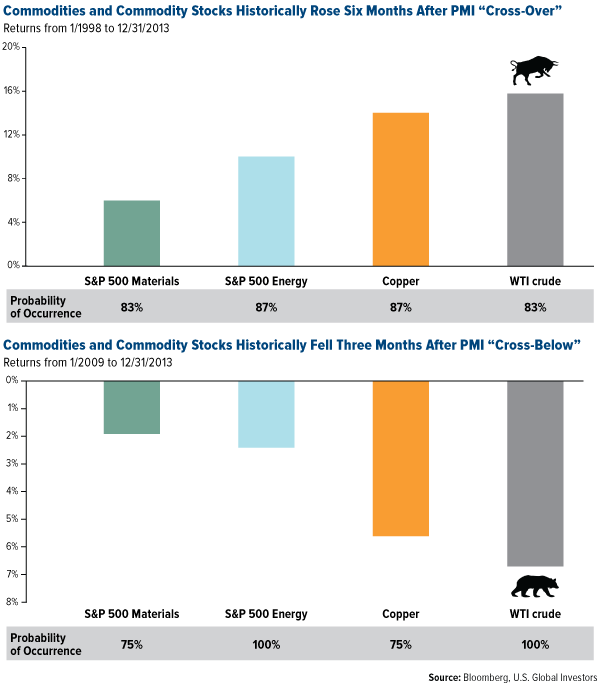 The global PMI reading is a composite of each country's unique PMI. So we look at individual countries and try to gauge what their monetary and fiscal policies are going to be. These government policies have a high correlation to commodity demand, which is significant to resource investments.
Brian Hicks, portfolio manager of our Global Resources Fund (MUTF: PSPFX), stepped in to share his thoughts on the resources sector, devoting special attention to the recent performance of crude oil [all italicized text that follows attributed to Brian Hicks]:
Despite the recent sell-off, I believe it's actually an excellent time to be looking at resource stocks and energy stocks in particular.
The Polarity of the Dollar and Crude Oil
The following chart mathematically depicts the oversold nature of crude oil: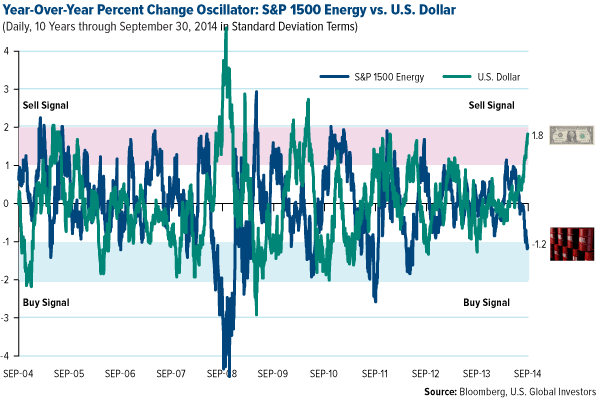 The dollar is significantly overbought relative to crude oil. The dollar is up almost two standard deviations; crude oil is down almost one standard deviation. History has shown, whether it's in 2011 or 2012, that this has been a good time to buy crude oil.
Natural Resources Stocks Priced to Move
Another factor that gets me excited about these energy stocks and natural resource stocks is the metrics that we're seeing from a fundamental standpoint. Looking at the top 50 holdings for our Global Resources Fund, what jumps out immediately is just how cheap these stocks are relative to their growth rate, trading at 20 times in the last quarter earnings. Sales were growing at over 20%.

These companies are very profitable, generating return on equity of 25%, paying a dividend yield on average of about 2.7% and growing that dividend at about a 30% clip. And as you can see, these stocks have outperformed the S&P 500 Index so far year to date (YTD), even with this pullback.
A Thirst for Oil
Looking at global oil demand, you can see it's been unrelenting through recessions, through bull markets and bear markets, and it looks like it's going to continue to go up at a fairly steady level based on the latest data from the U.S. Energy Information Administration (EIA).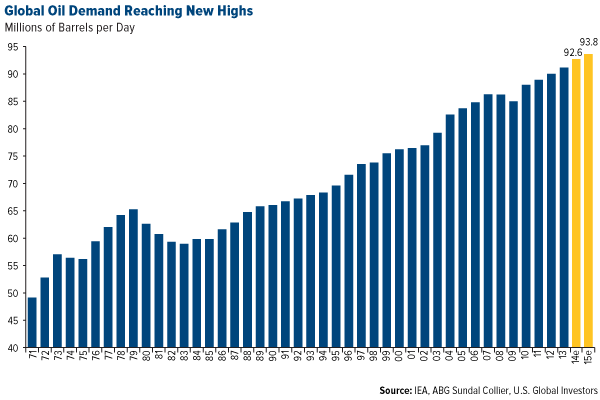 Below is a very important point to consider. Where oil prices are now, we're getting to the area where production could be cut off because prices are not high enough to incentivize new development, new production, and new drilling.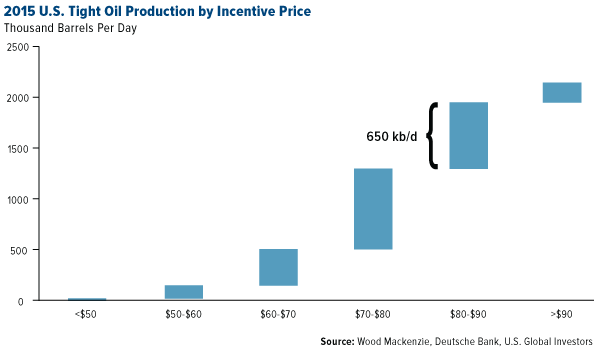 If you look at crude oil prices somewhere in the area of $80 to $90, we have about 650,000 barrels per day of production that need to be supported at that particular level. So we really can't go too much lower in terms of pricing. Otherwise, we would see a significant drop in the supply of oil.
Just to give you a sense of the scale here, we're expected to grow demand by 1 million barrels per day, and we have 650,000 barrels that need an oil price north of $80.
Pricing Black Gold to Stay in the Black
Another significant factor is the price that's necessary for countries that produce crude oil or export crude oil out of the Organization of the Petroleum Exporting Countries (OPEC) or non-OPEC.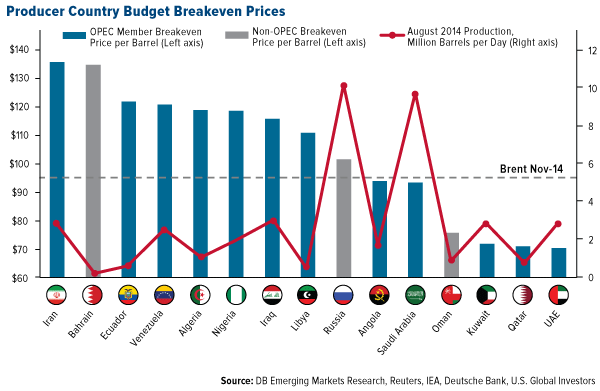 On average, you need to see $95-per-barrel prices in order for these countries to balance their budgets - their fiscal budgets. What really sticks out is Russia and Saudi Arabia. They're the two largest exporters of crude oil and, as you can see above, Russia requires an oil price north of $100, Saudi Arabia right at about $95 per barrel on a Brent basis, and we're below that number now.
The next OPEC meeting is in November. I would be surprised if we did not see another production cut if oil prices remain at these levels. I think that OPEC and the Saudis need to come in and support prices even more so than they already have following the cut in August.
U.S. Gushing Oil
One area that's been very topical and interesting as of late is the growth in U.S. crude oil production. It's at a new 25-year high.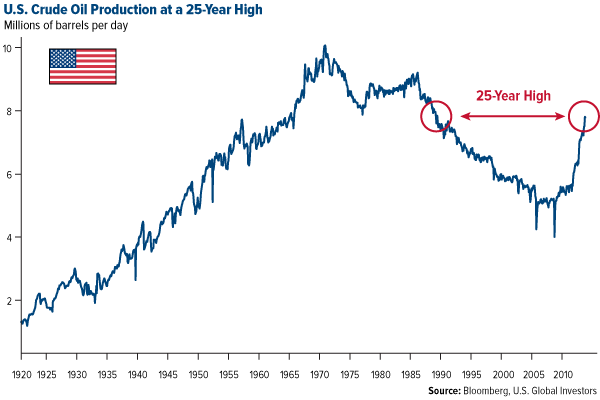 We've gone from basically 4.5 million barrels in 2008 to 8.5 million barrels. Energy stocks are no longer just the commodity play. They're also a volume growth play.
You can see this paradigm shift in that many of these shale producers have gone out and invested a lot of capital over the years and now, over the next two years or so, we're going to start to see a free cash flow payback on that initial investment and infrastructure in fracking and developing their resource.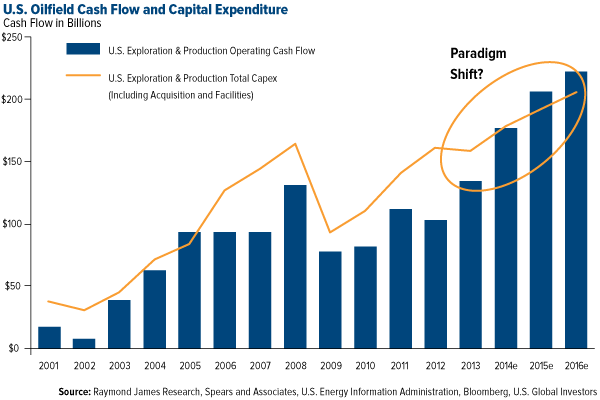 Because they're going to start seeing free cash flow, I think there's the potential we could get a rerating in multiples to that cash flow. Instead of trading four to six times, maybe we trade higher, somewhere between seven or eight times due to that positive free cash flow metric.
Commodities: A Value Play
Commodities have way underperformed other asset classes, bonds, and U.S. equity, and we feel like this is where the value is. This is the area where you can put capital to work for the long term and outperform, whereas some of the other areas such as bonds or U.S. stocks may not perform as well.
There are pockets of strength within the commodity sector where I think we will see companies profit and do well. On the whole, given this pullback, I'm very optimistic about resources going forward.
[Editor's Note: Frank Holmes is chief executive officer and chief investment officer of U.S. Global Investors Inc., which manages a diversified family of mutual funds and hedge funds specializing in natural resources, emerging markets, and infrastructure. He has been profiled by Fortune, Barron's, Financial Times, and other publications. If you want commentary and analysis from Holmes and the rest of the U.S. Global Investors team delivered to your inbox every Friday, sign up to receive the weekly Investor Alert at www.usfunds.com.]
Next: The U.S. stock market got hammered last week, but this is not a "run for the hills" moment. Instead, it's a fantastic short-term trading opportunity. Here's exactly how to trade after a market reversal - step by step...
Related Articles: