Netflix Inc. (Nasdaq: NFLX) stock plummeted more than 25% in afterhours trading today (Wednesday) after the company's Q3 earnings report showed lackluster subscriber growth.
NFLX added just 980,000 U.S. subscribers during the quarter, well below analysts' prediction of 1.37 million. Globally, the company added 3.02 million subscribers. Netflix had previously predicted 3.69 million new global subscribers.
"This quarter we over-forecasted membership growth," the company said in a letter to shareholders. "We'll continue to give you our internal forecast for the current quarter, and it will be high some of the time and low other times."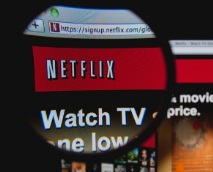 Netflix did report Q3 earnings per share (EPS) of $0.96. That beat estimates of $0.93 per share. However, revenue came in at just $1.22 billion, which was also below expectations of $1.41 billion.
Forward guidance figures were also disappointing. Company officials predicted EPS of just $0.44 for the fourth quarter, compared to analysts' estimates of $0.84.
Following the afterhours drop, NFLX stock has now dipped 31.5% from the 52-week high it hit in September.
The sell-off wasn't the first bad news of the day for Netflix. Earlier, NFLX shares dropped 4% after HBO announced its own standalone streaming service. It will be available in 2015 and adds another direct competitor for Netflix.
However, the company did not seem phased - at least publicly - and responded in its letter to shareholders.
"Since our per-member viewing and retention in the U.S. are as strong as ever, we don't think increased competition from piracy, TV Everywhere, Amazon Prime Instant Video, Hulu, etc., is a major factor," company officials said.
While today's sell-off is concerning, the worst part for shareholders is that NFLX missed on this figure in today's earnings report...