The Dow Jones today saw its sixth straight loss, down 24.5 points. The Nasdaq and S&P 500 clung to gains in the closing minutes. The S&P 500 Volatility Index (VIX) dropped nearly 4% on the day.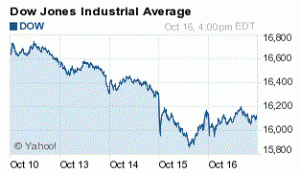 What moved the Dow: The Dow rebounded from early losses due to stronger than expected economic data this morning. Last week, Americans filing for unemployment benefits hit a 14-year low. Industrial production from U.S. factories jumped 1% last month, its strongest gain since November 2012.
Most notable economic news: This afternoon, St. Louis Fed President James Bullard argued that the U.S. central bank should consider delaying plans to slash its Quantitative Easing program. Bullard cited economic weakness and light inflation expectations as the reason for his argument.
Today's scorecard:
Dow: 16,117.24, -24.50          (-0.15%)
S&P 500: 1,862.76, +0.27 (0.01%)
Nasdaq            : 4,217.39, +2.07 (0.05%)
Here's a breakdown of today's other top stories and stock performances:
Now for three of today's best profit opportunities from our investing experts – for Money Morning Members only (Not a Member? Sign up now – it's free):