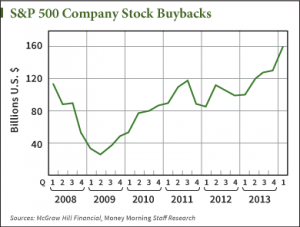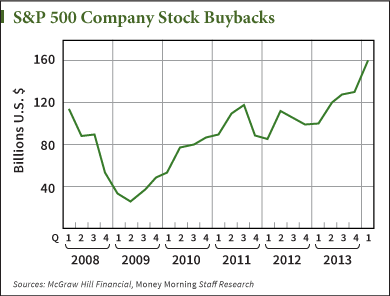 U.S. firms have used record cash piles to buy back more shares than ever before - but are stock buybacks really good for investors?
The first quarter's year-over-year increase in stock buybacks was one of the largest in recent history. The quarter's total was also the third-largest since 2005, according to data from FactSet.
The pace slowed in Q2 by 22.9% - but only because the growth was nearly impossible to maintain.
The increase is so much so that buyback activity is nearing levels it hasn't seen since before the financial crisis.
"The share buybacks show a level of optimism at the corporate level," Michael Amenta, a research analyst at FactSet, told Money Morning. "Unfortunately, they were optimistic in 2007, so they're not always right."
But it's important to look beyond the numbers with stock buybacks. Sometimes they are used to make a company's stock appear better than it really is.
To find out if 2014's stock buyback activity is healthy, it's important to understand why a company buys back its own shares - and how to tell when it's not a good thing...
Why Companies Buy Back Their Own Shares
Companies can give back to shareholders in two principal ways: dividends and share buybacks.
A dividend provides a steady payment to shareholders out of the company's coffers, subject to U.S. tax laws.
Stock buybacks reduce the total number of shares outstanding, driving up stock prices. Shareholders will see the stock appreciate in value, but won't be subject to any U.S. taxes until they sell off and have to pay a tax on capital gains.
In effect, a stock buyback is a way to create shareholder value by reducing supply on the market.
But it doesn't always work that way...
You see, the best time for a company to buy back its own stock is when the shares are trading below their intrinsic value.