Crude oil prices were down sharply again this week, reaching their lowest prices since January 2012.
Thursday, West Texas Intermediate (WTI) crude oil for November delivery dropped to $80.01 a barrel. That's a 23.4% dip from the three-year high it set in June.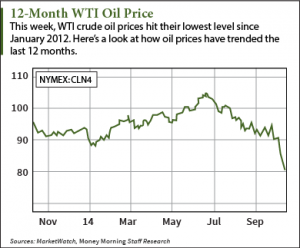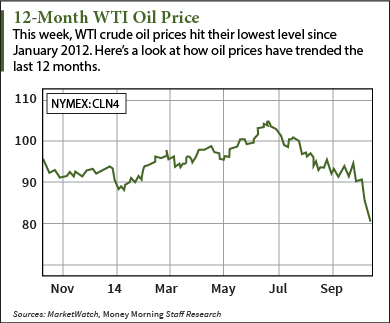 Brent oil prices were down 4.3% to $85.04 Tuesday. That was Brent's biggest one-day drop since September 2011.
There are several key factors contributing to oil's drop:
First, global demand has continued to drop since June. This week, the International Energy Agency slashed its full-year oil-demand growth forecast to its lowest total since 2009.
At the same time, U.S. oil output reached 8.7 million barrels per day (bpd) in September, creating a supply glut. That's the United States' highest output total in 30 years.
And it could go even higher. The U.S. Energy Information Administration (EIA) expects that number to jump another 963,000 bpd in 2015, at its current pace.
That's not all. Increased production from Libya, Saudi Arabia, Iraq, Nigeria, and Angola has also boosted the global supply.
But now, a recent development in Saudi Arabia could have the biggest impact of all.
Saudi Arabia's Impact on Oil Prices
Throughout October, many analysts have been expecting Saudi Arabia to cut production in an attempt to raise oil prices. As the world's top oil exporter, Saudi Arabia has a strong influence on the global oil price.
But the Saudis are taking a different approach. One that could create a global oil price war.
According to multiple reports, Saudi officials have decided to let oil prices hover in the $80 range "for a year or two."
Rather than slowing their own production, Saudi Arabia is forcing U.S. oil producers to slow theirs.
"The move by the Saudis suggests that the biggest member of OPEC is prepared to let prices fall rather than cede market share by paring output to clear a supply surplus," said Money Morning's Global Energy Strategist Dr. Kent Moors.
Currently, OPEC nations account for roughly 42% of the world's supply. During a similar supply glut in the 1980s, Saudi Arabia cut production and had a difficult time regaining its market share. The nation doesn't want a repeat.
"There appears to be a direct battle underway among OPEC members for market share in a pricing environment increasingly defined by unconventional (shale and tight) reserves," Moors said.
After the Saudi decision, officials from Kuwait and Iran also said they will not curb output.
"Indications are that the Saudis intend to keep output steady until the end of the year, near the 9.6 million barrels a day extracted in August and September," Moors said. "Refraining from further cuts would preserve the volume of Saudi Arabia's oil sales, curb revenue for competitors, and discourage production of U.S. shale oil."
With the Saudis refusing to budge on production levels, oil prices will remain muted until someone cuts back on production.
And that will impact investors in the three following ways...