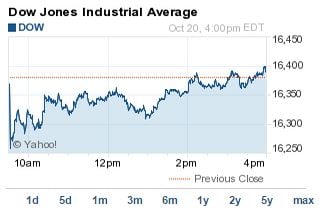 The Dow Jones today closed slightly higher, rising 19 points. The S&P 500 Index gained for its third consecutive session, and the Nasdaq was up 1.3%. The S&P 500 Volatility Index (VIX) dipped more than 14% on the day.
What moved the Dow: The Dow Jones was held back from more substantial gains Monday after International Business Machines Corp. (NYSE: IBM) released disappointing earnings results this morning. The stock declined by more than 7%, falling to a three-year low. IBM also announced it has abandoned its 2015 earnings forecast. The world's largest tech company continues to struggle as the hardware sector continues to grow more commoditized. This is the 10th consecutive quarter for which IBM reported a decline in sales.
Most notable economic news: With nearly 130 S&P 500 companies scheduled to report this week, today's economic calendar was light, with the exception of three speeches by members of the U.S. Federal Reserve. This morning, Fed Governor Jerome Powell avoided discussion of monetary policy and instead offered a prepared speech on the role of the central bank in supervising community banks. Meanwhile, Federal Reserve Governor Daniel Tarullo said that banks should reward employees who not only increase revenue, but also identify risks that could harm the bank or lead to financial losses.
Today's scorecard:
Dow: 16,399.67, +19.26 (+0.12%)
S&P 500: 1,904.02, +17.26 (+0.91%)
Nasdaq: 4,316.07, +57.64 (+1.35%)
Now, here's a breakdown of today's other top stories and stock performances:
Now for three of today's best profit opportunities from our investing experts – for Money Morning Membersonly (Not a Member? Sign up now – it's free):