"Mr. Market" is the analogy Warren Buffett uses to help investors understand the market as though it were a person.
Usually, Mr. Market is as rational as the efficient market we all dream about.
But Mr. Market also suffers periods of manic depression – as the recent stock market sell-off shows.
In the space of just a few weeks, Mr. Market has gone from being downright giddy to sliding into a deep funk.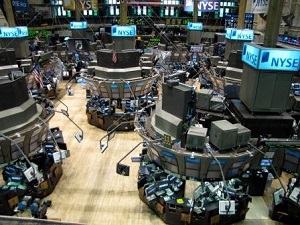 So, today I am going to lay out for you an anatomy of Mr. Market's mood swings. That way you'll understand what we are up against as investors and why I continue to say don't cash out now…
Here's What Technical Analysis of the Stock Market Sell-Off Shows
To understand what's really happening with U.S. stocks, we need to perform some technical analysis. Think of this as the flip side of fundamentals – we're examining charts, not financial statements.
We began a conversation about charting on Sept. 29. At the time, I introduced you to the concept of using simple moving averages to determine how much investor support a stock really has.
We can use these same tools to drill down and find out what's happening in the market as a whole. We literally can see if we are in an uptrend or a downtrend, near a top or at a bottom.
In other words, technical analysis and charting can improve your timing so that you know when to put in less money and when to make bigger plays. And that's what we are going to do now by charting key days in the recent market sell-off.
Today, I'm going to use the bellwether Standard & Poor's 500 Index to depict the broad market. To see where we are in terms of investor support, we're going to plot the 200-day moving average, which most pros consider the market's crucial support level.
One more technical point: I'm going to be talking about candlestick patterns. These visual symbols really let you see what's happening on any given day.
And they're color-coded – green for winning days, red for losing ones. So, let's get started with our "Anatomy of a Sell-Off" by looking at key dates:
Join the conversation. Click here to jump to comments…
About the Author
Michael A. Robinson is one of the top financial analysts working today. His book "Overdrawn: The Bailout of American Savings" was a prescient look at the anatomy of the nation's S&L crisis, long before the word "bailout" became part of our daily lexicon. He's a Pulitzer Prize-nominated writer and reporter, lauded by the Columbia Journalism Review for his aggressive style. His 30-year track record as a leading tech analyst has garnered him rave reviews, too. Today he is the editor of the monthly tech investing newsletter Nova-X Report as well as Radical Technology Profits, where he covers truly radical technologies – ones that have the power to sweep across the globe and change the very fabric of our lives – and profit opportunities they give rise to. He also explores "what's next" in the tech investing world at Strategic Tech Investor.