"Mr. Market" is the analogy Warren Buffett uses to help investors understand the market as though it were a person.
Usually, Mr. Market is as rational as the efficient market we all dream about.
But Mr. Market also suffers periods of manic depression – as the recent stock market sell-off shows.
In the space of just a few weeks, Mr. Market has gone from being downright giddy to sliding into a deep funk.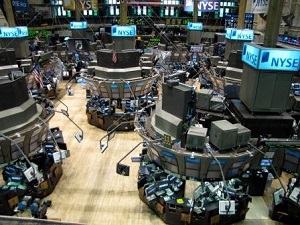 So, today I am going to lay out for you an anatomy of Mr. Market's mood swings. That way you'll understand what we are up against as investors and why I continue to say don't cash out now…
Here's What Technical Analysis of the Stock Market Sell-Off Shows
To understand what's really happening with U.S. stocks, we need to perform some technical analysis. Think of this as the flip side of fundamentals – we're examining charts, not financial statements.
We began a conversation about charting on Sept. 29. At the time, I introduced you to the concept of using simple moving averages to determine how much investor support a stock really has.
We can use these same tools to drill down and find out what's happening in the market as a whole. We literally can see if we are in an uptrend or a downtrend, near a top or at a bottom.
In other words, technical analysis and charting can improve your timing so that you know when to put in less money and when to make bigger plays. And that's what we are going to do now by charting key days in the recent market sell-off.
Today, I'm going to use the bellwether Standard & Poor's 500 Index to depict the broad market. To see where we are in terms of investor support, we're going to plot the 200-day moving average, which most pros consider the market's crucial support level.
One more technical point: I'm going to be talking about candlestick patterns. These visual symbols really let you see what's happening on any given day.
And they're color-coded – green for winning days, red for losing ones. So, let's get started with our "Anatomy of a Sell-Off" by looking at key dates:
Join the conversation. Click here to jump to comments…
About the Author
Michael A. Robinson is a 35-year Silicon Valley veteran and one of the top technology financial analysts working today. He regularly delivers winning trade recommendations to the Members of his monthly tech investing newsletter, Nova-X Report, and small-cap tech service, Radical Technology Profits. In the past two years alone, his subscribers have seen over 100 double- and triple-digit gains from his recommendations.
As a consultant, senior adviser, and board member for Silicon Valley venture capital firms, Michael enjoys privileged access to pioneering CEOs and high-profile industry insiders. In fact, he was one of five people involved in early meetings for the $160 billion "cloud" computing phenomenon. And he was there as Lee Iacocca and Roger Smith, the CEOs of Chrysler and GM, led the robotics revolution that saved the U.S. automotive industry.
In addition to being a regular guest and panelist on CNBC and Fox Business Network, Michael is also a Pulitzer Prize-nominated writer and reporter. His first book, "Overdrawn: The Bailout of American Savings" warned people about the coming financial collapse - years before "bailout" became a household word.
You can follow Michael's tech insight and product updates for free with his Strategic Tech Investor newsletter.