Big bank earnings kicked off last week at a pivotal time for the sector. And it was a mixed bag for the nation's largest banks.
Citigroup Inc. (NYSE: C) emerged as a success story. The bank grew its third-quarter sales 9.5% from the third quarter last year to $19.6 billion, and earnings-per-share (EPS) was up 13% to $1.15. This topped analysts' expectations.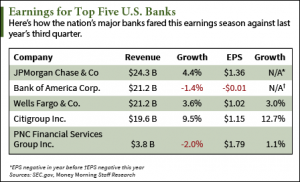 Click to enlarge
Revenue fell 2.1% for PNC Financial Services Group Inc. (NYSE: PNC) to $3.8 billion, while EPS was up $0.02 to $1.79. Both numbers beat expectations.
Wells Fargo & Co. (NYSE: WFC) matched estimates, with 3.6% sales growth to $21.2 billion and a $1.02 EPS, compared to last year's $0.99.
Only one of the top five big banks couldn't beat Wall Street estimates, and that was the nation's largest: JPMorgan Chase & Co (NYSE: JPM). The banking giant did turn last year's $380 million loss into a $5.6 billion third-quarter profit. But the $1.36 EPS was just a shade below the $1.38 expectation.
Perhaps the most important of the bank earnings came from Bank of America Corp. (NYSE: BAC).
The nation's second-largest bank suffered a 1.4% sales decline, with a negative $0.01 EPS. These still beat estimates, as analysts thought steep legal penalties would hold back the bank even more.
But those losses tell a bigger story about a new era for the financial sector.
Big Bank Earnings Mark an Industry Shift
In August, BAC paid out $16.7 billion in legal fines to the feds for abusive practices in its mortgage business. It was the largest penalty the U.S. Department of Justice ever leveled against a financial institution.
The monstrous settlement was the most recent in a long line of litigation brought against banks in the wake of the financial crisis.
"It's created a lot of uncertainty for the investors to fully understand when will this be over with," Clifford Rossi, professor of the practice and executive-in-residence at the University of Maryland's Robert H. Smith School of Business, told Money Morning.
But BAC's blockbuster settlement may signal an end to the days of large legal costs weighing down bank balance sheets.
"My sense of the legal settlements issue is that they are starting to wane," Rossi said. "The big ticket government settlements are, I think, coming to an end."
However, legal troubles aside, there are still a slew of headwinds that will hamper banks for a long time to come.
Here are the three things investors should be wary of before buying in to banking...