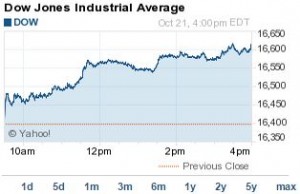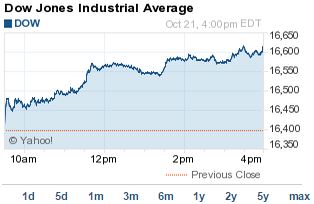 The Dow Jones jumped more than 1% Tuesday, adding 215 points on the day. The Nasdaq soared more than 2% on the day, buoyed by Apple's strong earnings. The S&P 500 Volatility Index (VIX) dipped another 11% on the day.
Today's scorecard:
Dow: 16,614.81, +215.14 (+1.31%)
S&P 500: 1,941,28, +37.27 (+1.96%)
Nasdaq: 4,419.48, +103.40 (+2.40%)
What moved the markets: The Dow Jones rose on stronger corporate earnings and speculation that the European Central Bank may soon introduce new stimulus measures to beat back concerns about growth in the region. The S&P 500 had its fourth consecutive winning session, boosted by strong corporate earnings, especially the report filed afterhours yesterday by Apple Inc. (Nasdaq: AAPL). Shares of Apple were up more than 2.5% on the day, buoyed by strong iPhone 6 sales and a strong holiday outlook. The Nasdaq was boosted by strong – and surprising – earnings reports from a number of other tech and biotech companies, including Illumina Inc. (Nasdaq: ILMN). Shares of Illumina were up more than 9% after the company reported strong earnings and received an upgrade from JMP Securities.
Most notable economic news: Sales of existing U.S. homes struck a one-year high in September. The news is another sign that the housing market continues to recover from the Great Recession. Although year-to-date sales remain down 1.7% compared to this time in 2013, prices are on the rise. The existing median home price is up 5.6% compared to this time last year, and it is fast approaching the median price of existing homes prior to the financial crisis.
Now, here's a breakdown of today's other top stories and stock performances:
Now for three of today's best profit opportunities from our investing experts – for Money Morning Members only (Not a Member? Sign up now – it's free):