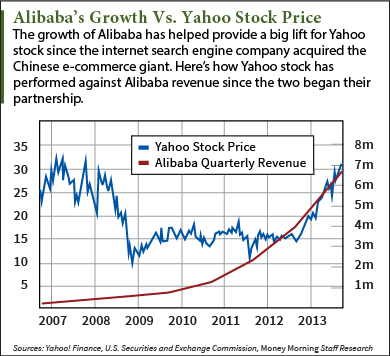 The most exciting business headline today will have to be that of Yahoo! Inc. (Nasdaq: YHOO) earnings.
Even more interesting than the report will be the quarterly earnings call, when YHOO management will likely be grilled by analysts on its plan moving forward.
You see, YHOO has relied on its large stake in Chinese e-commerce giant Alibaba Group Holding Ltd. (NYSE: BABA) to carry its flagging core business. In eight of the last 10 quarters, core business operations have fallen year over year.
Compare that to the income generated by equity interests, which includes YHOO's BABA holdings and a 35% stake in Yahoo! Japan, a figure that has grown every quarter. Most recent reporting shows that Alibaba grew sales by 72.4% in 2013.
It all began in 2012, when YHOO reduced its stake in BABA from 40% to a little over 20% with the sale of more than 500 million shares. The sale netted $2.8 billion for YHOO.
After that 2012 sale, YHOO and BABA entered into a repurchasing agreement that would set a roadmap for YHOO's eventual exit from investment in the company following BABA's IPO.
And when BABA did go public, YHOO sold another 140 million shares and added $9.5 billion to its coffers.
Now, YHOO holds a 15% stake in BABA and still holds 383.6 million shares. This would put YHOO's current stake at close to $35 billion, and that is only expected to grow if BABA continues to put up numbers.
"The value infused by the Alibaba deal is a huge windfall for Yahoo shareholders and Yahoo management," said Money Morning Chief Investment Strategist Keith Fitz-Gerald. "Whether or not something can be done – whether Yahoo can actually grow its business – remains to be seen."
With the Alibaba IPO last month, and YHOO's reduced stake in the company, it's becoming clear to investors that Chief Executive Officer Marissa Mayer can't evade the heat forever. No longer will the booming sales growth of YHOO's investments in Asian markets be able to soften the blow of YHOO's core operations' dwindling business.
For YHOO shareholders who want to see a good return on their holdings, and who want to see sufficient windfall profits from YHOO's further sales of BABA shares, here's what to look out for in earnings…