The Fed plans to wind down its asset purchases this month, but Japan and the United Kingdom are still buying, full swing.
Meanwhile, the European Union is just looking to get started.
And, while the Fed is expected to begin raising rates next year, Europe and Japan recently pushed theirs below zeroas deflation appears to be the bigger threat.
That's sent the U.S. dollar into a major run up, with the euro and yen on the losing side.
This adds up to a global currency conflict that's giving us a very rare, very lucrative opportunity right now...
The Double-Edged Sword of a Stronger Dollar
In the last three months the US Dollar Index has surged by over 7% - a massive move that almost never comes over such a short period of time in currency markets.
But volatility is a sign that investors and traders are edgy and unsettled.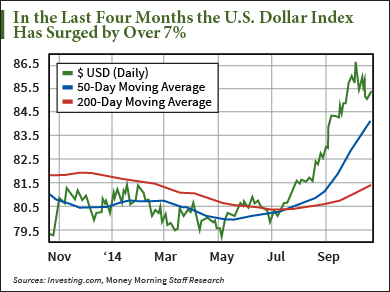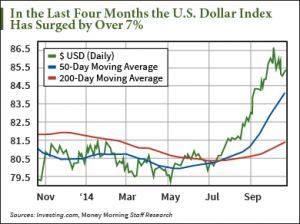 Right now, the dollar is strong, in part because investors have been chasing U.S. markets. They've been on a tear for nearly five years, and increasingly people "want in on the action."
Another strong-dollar factor is simply the weakness in other currencies.
For instance, the pound sterling was hit last month by uncertainty surrounding the now-resolved Scottish independence referendum.
And the yen's been whacked by its massive QE program, while the euro's been trashed by slashing rates - and expectations that the European Central Bank (ECB) would embark on its own massive QE to kick-start inflation.
A strengthening dollar has numerous benefits. Imports become cheaper, and Americans travelling abroad find their dollar goes further.
But it's still a double-edged sword. The stronger dollar, which prices commodities, means weaker resource prices. That's good for companies that use them as inputs, as costs come down, but it's a real headwind for those that produce the commodities themselves, as margins get squeezed.
At the same time, American exports become more costly to their overseas buyers, and foreign tourists may decide to postpone that trip to Walt Disney World, as it suddenly becomes that much more expensive.
Not all of this is good for the economy; there's a delicate balance to contend with.
"Super Mario" Has a Tougher Job Ahead
On the other side of the Atlantic, the EU hasn't enjoyed the same supposed recovery as the U.S.
So ECB President Mario Draghi is desperate to kick-start activity and boost inflation, stuck at an anemic 0.3% in August.
Eurozone unemployment is running at 11.5%, with some countries like Greece and Spain weighed down with rates above 24%.
Back in April I said "...Draghi shocked exactly no one when he said they were committed to nipping persistent low inflation in the bud. He confirmed that quantitative easing was part of a 'rich and ample discussion,' with Eurozone inflation at 0.5%, well below the 2% target."
Then in June I explained the ECB's new and more drastic measures:
Interest on main refinancing operations (MROs) was lowered by 10 basis points to 0.15%. These are loans to banks secured by sovereign debt.
400 billion euros were made available in loans to banks with a limit of up to 7% of existing loans to the nonfinancial private sector (excluding home lending).
Marginal lending facility (overnight credit from ECB) was lowered from 0.75% to 0.4%.
But here was the real kicker...
Deposit rates (interest paid to banks on deposits at the ECB) were lowered from 0% down to -0.1%. Banks will now have to pay the ECB to leave funds on deposit.
So, Draghi's on a mission...
Join the conversation. Click here to jump to comments…
About the Author
Peter Krauth is the Resource Specialist for Money Map Press and has contributed some of the most popular and highly regarded investing articles on Money Morning. Peter is headquartered in resource-rich Canada, but he travels around the world to dig up the very best profit opportunity, whether it's in gold, silver, oil, coal, or even potash.