Microsoft Corp. (Nasdaq: MSFT) posted a strong beat on its first-quarter earnings today (Thursday), pushing MSFT stock up in after-hours trading.
Microsoft stock rose as much as 4% following the earnings announcement after the market close.
The solid Q1 Microsoft earnings should boost confidence in Chief Executive Officer Satya Nadella's leadership as he tries to steer Microsoft through a tough transition period.
Nadella is trying to manage the digestion of the $7 billion acquisition of Nokia's devices division, a questionable deal made by former CEO Steve Ballmer. In July, Nadella announced 18,000 layoffs that would be spread over one year.
DON'T MISS: Most investors know tech is great for growth, but there are two tech sectors in particular that have many glorious days ahead of them…
The Redmond, Wash.-based tech giant beat on both earnings and revenue. Virtually all segments contributed. Earnings per share (EPS) were $0.54, besting forecasts of $0.49 per share.
That's more impressive than it looks, as the beat came despite hefty restructuring costs. While that was lower than the $0.62 EPS from the same period a year ago, it includes $0.11 per share of restructuring charges. Backing that out, MSFT improved EPS by $0.03 year over year.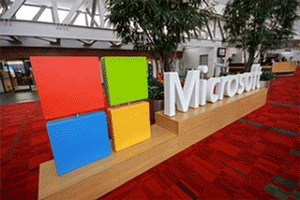 Revenue was $23.2 billion, beating expectations for $22 billion. That's a 24.8% increase over the $18.53 billion in the year-ago quarter.
"We delivered a strong start to the year, with continued cloud momentum and meaningful progress across our device businesses," said Amy Hood, executive vice president and chief financial officer of Microsoft.
Why MSFT Stock Rose on Q1 Earnings
The strong Q1 MSFT earnings were powered primarily by strong growth in Microsoft's Devices and Consumer Division. Revenue there grew 47% to $10.96 billion. That's the sort of growth investors love to see, particularly from an older tech company like Microsoft.
Microsoft's subscription strategy for Office maintained its trend of rapid growth, zooming from 5.6 million in the June quarter to more than 7 million.
Xbox sales more than doubled, and phone hardware sales grew to $2.6 billion from just under $2 billion in the June quarter. More importantly, the phone division added $478 million to Microsoft's bottom line. In the previous quarter the phone division had a $692 million loss.
Meanwhile, commercial revenue grew just 10% to $12.28 billion, but several key areas performed well.
In particular, server products and services revenue was up 13%, and commercial cloud revenue rose 128%. Those are both areas that Microsoft is counting on for future growth.
MSFT stock is up more than 22% year to date.
What About Windows 10? The latest version of Windows won't appear until sometime next year, so it won't affect earnings for a while. But if Microsoft makes one key change to Windows 10, it could have a major impact on MSFT stock…
Follow me on Twitter @DavidGZeiler