The Q1 MSFT earnings are expected after the market close today (Thursday).
The short story is that transition costs will weigh down Microsoft Corp.'s (Nasdaq: MSFT) Q1 earnings, while continued strength in the company's cloud-based products could deliver enough oomph to manage a beat.
Layoffs, consolidation and restructuring costs from the deal to acquire the Nokia devices unit, which closed in April, will drag on earnings for the next few quarters. But that will be offset by the increasing payoff from Chief Executive Officer Satya Nadella's new "cloud first, mobile first" strategy.
The Q1 Microsoft earnings will tell us how well Nadella is managing this multi-faceted transition. The more successful he has been, the more likely MSFT will beat expectations.
Here's what investors need to know about the Q1 MSFT earnings report:
What to Watch for in the Q1 MSFT Earnings
The numbers: According to Yahoo! Finance, analysts are looking for earnings per share (EPS) of $0.49, down from $0.62 a year ago. EPS has declined in six of the last nine quarters. The forecast for revenue is $22 billion, an 18.8% increase over sales of $18.53 billion in the same quarter a year ago.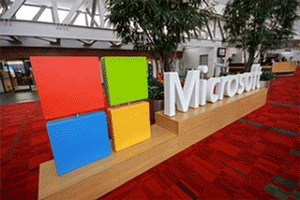 The last quarter: Microsoft missed on earnings last time, with an EPS of $0.55 a share falling short of expectations for $0.60 a share. But revenue of $23.38 billion beat forecasts for $23 billion.
The stock: MSFT stock has been flat over the past quarter, but is up nearly 19% for the year. Microsoft stock closed at $44.38 yesterday (Wednesday). MSFT raised its dividend from $0.28 to $0.31 Sept. 16.
The background: Microsoft's failure to establish itself in the mobile market has hurt the company. Revenue from Windows licenses has slumped along with overall PC sales in recent years. Former CEO Steve Ballmer was never able to put together an effective strategy to move Microsoft into the future. Now that task has fallen to Nadella.
Now here's what will matter most in the Q1 MSFT earnings…