On the heels of the worst market volatility in nearly 20 years, and more "crash talk" than we've heard maybe ever, it's starting to look like a smart time to hit the eject button and get out of the markets altogether.
In fact, that's probably the most common question I'm hearing these days: "Should I be in the stock market right now?"
Believe me, I get it. Folks are emotionally shattered from seeing their wealth cut in half twice – once in 2000 and again in 2007-2008. That's why 55% of Americans have no money in the stock market at all, according to a Federal Reserve Board analysis from last year. I think the number is actually higher, because of the anecdotal evidence I gather on a daily basis.
That means hundreds of millions of people are missing this blindingly simple tactic that drives my strategy for my new Total Wealth publication.
If only those people would look at this chart of the Dow Jones over the last 114 years: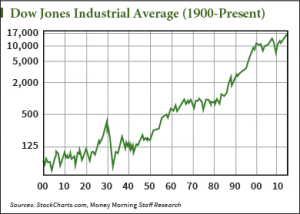 Despite two world wars, multiple invasions, presidential assassinations, the Cold War, hot wars, recession, depression, and all manner of events that no doubt seemed "catastrophic" at the time, it continued to push higher.
Since 1900, it rose a staggering 24,285%.
Why did it keep going up? Because the companies that comprise the Dow continued to make products, provide services, and grow earnings. It's that simple.
There are more people on this planet every single year. There's more money being created. There's more velocity. Capital is a creative force, too. As more wealth is created, investors joining the party are willing to pay increasingly higher prices to go along for the ride. It really isn't more sophisticated than that.
That's why "always own stocks" is another Total Wealth tactic.
Many people don't think of this as an investing tactic. But truth be told, it may actually be the most important tactic of all, because if you don't own stocks, then you can't participate in what I think of as "the upside of humanity."
Let me explain exactly what I mean – and why this tactic is so essential to building wealth…
Join the conversation. Click here to jump to comments…
About the Author
Keith is a seasoned market analyst and professional trader with more than 37 years of global experience. He is one of very few experts to correctly see both the dot.bomb crisis and the ongoing financial crisis coming ahead of time - and one of even fewer to help millions of investors around the world successfully navigate them both. Forbes hailed him as a "Market Visionary." He is a regular on FOX Business News and Yahoo! Finance, and his observations have been featured in Bloomberg, The Wall Street Journal, WIRED, and MarketWatch. Keith previously led The Money Map Report, Money Map's flagship newsletter, as Chief Investment Strategist, from 20007 to 2020. Keith holds a BS in management and finance from Skidmore College and an MS in international finance (with a focus on Japanese business science) from Chaminade University. He regularly travels the world in search of investment opportunities others don't yet see or understand.