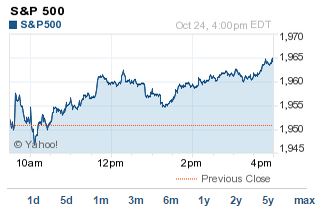 U.S. stock markets jumped again Friday, bringing an end to one of the markets' best weeks in nearly two years. The S&P 500 was up roughly 3.7% on the week and logged its biggest weekly gain of 2014. The Dow Jones added 127 points on the day, while the Nasdaq added another 30 points.
Today's scorecard:
Dow: 16,805.41, +127.51 (+0.76%)
S&P 500: 1,964.58, +13.76 (+0.71%)
Nasdaq: 4,483.71, +30.92 (+0.69%)
What moved the markets: The markets were able to beat back concerns over Ebola after a 33-year-old doctor was diagnosed with the deadly virus in Manhattan. The Dow Jones and Nasdaq jumped after strong earnings reports from Microsoft Corp. (Nasdaq: MSFT) and global conglomerate Procter & Gamble Co. (NYSE: PG). Shares of Microsoft jumped on news that the company continues to see sales growth in both cloud services and mobile, the two areas of expertise that led to the appointment of Chief Executive Officer Satya Nadella. Meanwhile, Procter & Gamble jumped on positive earnings estimates and news that it plans to spin off its Duracell brand.
Most notable economic news: Sales of new U.S. single-family homes hit a six-year high in September. The U.S. Department of Commerce announced sales jumped 0.2% to hit an expected annual rate of 467,000 units. The news wasn't something to completely celebrate, however, after the federal agency announced that it has significantly revised the August new sales report downward.
Now, here's a breakdown of today's other top stories and stock performances:
Now for three of today's best profit opportunities from our investing experts – for Money Morning Members only (Not a Member? Sign up now – it's free):