The price of silver this week is down slightly – but the month's performance has been a welcome change.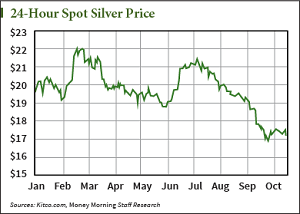 Silver's up $0.02 on the month. October has seen panicked markets and light short covering boost silver prices slightly.
This is a nice shift from the weeks of unmitigated decline in silver prices. September saw the price of silver plunge 13%, after a 4.5% decline in August.
But it's not smoothly heading up just yet…
Silver traded at $17.195 an ounce at yesterday's (Thursday) close. This is up about $0.03 from the day before, but down a disappointing $0.31 from Monday's close.
This is also down $0.075 on the week, or 0.4%.
So what are the biggest factors affecting silver now, and in the coming week?
Take a look…
Larger Market Volatility Driving Silver Prices
Precious metals can get a bounce from safe haven demand as panicked investors flock to real assets, fearing a market crash.
In the last month the talks of crashes and corrections were deafening.
That's because the Dow Jones Industrial Average, having come off its Sept. 19 record high of 17,279.74 charted a volatile course from then on out.
The Dow strung together five straight days of triple digit movements in both directions. The first biggest hit came on Sept. 25 when the leading market indicator plunged 264 points.
This was the Dow's fate for most of the month, up-and-downs eventually turned into a full-on descent.
A 335-point drop on Oct. 9 precipitated an even deeper slump that resulted in the Dow wiping out all its gains on the year.
Last Thursday, the Dow was trading at 16,117.24. This was down from the 2013 close of 16,576.66.
At this level, the Dow had fallen about 7%. Not quite the 10% needed to fit the formal definition of a "correction," but a sizable downdraft nonetheless.
This was great for silver though. Declining markets do play into silver's value on safe-haven investing.
Since then, however, silver has slipped again. For most of the month it's mimicked the violent, unpredictable movements of the Dow.
And the Dow has begun to recover much of its losses this week, trading back at above the 16,700 level.
So what does this mean for silver?