It's officially silly season in U.S. politics leading up to midterm elections, with both parties stooping to distraction and hyperbole. As usual, some of the most misguided utterances so far have come from the White House and, specifically, from our own Commander-in-Chief.
Speaking to students and faculty at Northwestern University on October 2, 2014, U.S. President Barack Obama said of America's economic recovery, "It is a direct result of the American people's drive and determination… and the decisions made by my administration."
I totally agree with the first part of that statement. But the second part of it – the assertion that credit for whatever recovery we've had lies with his administration – is charitable, to put it mildly.
Love him or hate him, nearly 45% of the recovery can be traced to this one, single economic sector, and the president is actually dead set against it.
If you're like me, your eyebrows just shot up. Mine sure did when I first took a hard look at the data and ran the numbers.
That's because I love the underdog. Anytime something is unloved and unnoticed, I'm interested, especially if the numbers line up. And, boy, do they ever in this case.
A Recovery Tied Inextricably to America's Energy Revolution
At a time when overall U.S. employment has yet to return to its pre-recession levels of 2008, oil and gas exploration is the only sector that employs 40% more people now than it did then.
In fact, the growth is so strong that if you strip everything else away from the recovery President Obama insists he's created, there wouldn't be one for more than 139 million Americans as of September.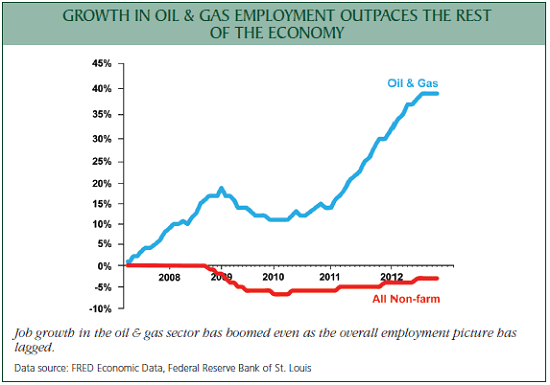 Even better – at least when it comes to investing potential – the president positively hates this sector, preferring instead to invest in so-called "green" alternatives, many of which haven't paid off. Solyndra, anybody?
And this begs the question: What would this historically weak "recovery" have looked like without the massive energy boom?
The ten top energy-producing states in America provide a clue.
Join the conversation. Click here to jump to comments…
About the Author
Keith Fitz-Gerald has been the Chief Investment Strategist for the Money Morning team since 2007. He's a seasoned market analyst with decades of experience, and a highly accurate track record. Keith regularly travels the world in search of investment opportunities others don't yet see or understand. In addition to heading The Money Map Report, Keith runs High Velocity Profits, which aims to get in, target gains, and get out clean, and he's also the founding editor of Straight Line Profits, a service devoted to revealing the "dark side" of Wall Street... In his weekly Total Wealth, Keith has broken down his 30-plus years of success into three parts: Trends, Risk Assessment, and Tactics – meaning the exact techniques for making money. Sign up is free at totalwealthresearch.com.